For outstanding performance and reliability at major international airports or in bush country, Wipaire presents the Wipline 6100 Float.
The 6100 Floats are true workhorses — yet minimal maintenance is required for years of dependable service. The floats are designed to allow full use of the new high-gross kits currently offered for the Mark I and Mark III Beaver and the Pilatus Turbo Porter. They provide similar takeoff performance to other floats, yet due to the unique aerodynamic design, they provide increased cruise speeds.
Wipline 6100 Floats are available for installation on: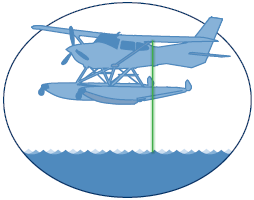 Learn About Our Laser Gear Advisory
Now included at no additional cost on new Wipline float purchases, and available for retrofit on Wipline-equipped aircraft.
Specifications
Float Dimensions
Length – Seaplane
24'7" (7.49 m)
Length – Amphibian
25' (7.62 m)
Height – Hull
2'10" (0.86 m)
Width – Hull
3'3" (0.99 m)
Float Locker Capacity (each)
50 lbs (22.7 kg)
Displacement in Fresh Water
Amphibious Floats
5,518 lbs (2,503 kg)
Seaplane Floats
5,664 lbs (2,569 kg)
Maximum Flotation
Amphibious Floats
6,131 lbs (2,781 kg)1
Seaplane Floats
6,293 lbs (2,854 kg)1

1) Per FAR 23.751with 80% reserve buoyancy (2 floats)
Weight for 6100 Floats on a de Havilland Beaver
Amphibian Exchange Weight
924 lbs (419 kg)2
Seaplane Exchange Weight
450 lbs (204 kg)2
Aircraft Gross Weight
5,600 lbs (2,540 kg)

2) Exchange weight is equal to the float installation weight minus aircraft landing gear weight.
Weight for 6100 Floats on a PC-6/B2-H4
Amphibian Exchange Weight
898 lbs (408 kg)2
Seaplane Exchange Weight
422 lbs (192 kg)2

2) Exchange weight is equal to the float installation weight minus aircraft landing gear weight.
Wipline 6100 Pricing
Call for Pricing on the 6100 Straight Floats – Only 2 Sets Left
651-451-1205
All amphibious floats include landing gear advisory system.
Float rigging and FAA STC paperwork included.
Call for discount details if the aircraft has seaplane modifications previously installed.
Product installation assumes standard factory aircraft. Non-standard aircraft may be subject to additional installation charges
Float paint option:

Overall base color to match aircraft is included.
Two trim colors to match scheme of aircraft is included.
Additional trim colors quoted per color and paint scheme.
Complex paint scheme, inboard and bottom painting of floats, please call for pricing.
Paint information and paint scheme will be requested at the time of deposit.  If paint colors are not provided, we will match colors to the best of our ability, but will not guarantee 100% match or a definite delivery date.
Customer choice of polyurethane or silver-gray submersion paint is included.  There is no paint warranty for polyurethane floats stored in water for extended periods.
de Havilland MK I and MK III
Ventral fin and finlet kit are included in the float price.

Prices in U.S. dollars, FOB St. Paul, Minnesota, USA, and are subject to change without notice. Prices do not include taxes, duties or tariffs. They also may vary if custom work is required or requested.

Effective for floats quoted after February 1, 2017.