The Wipaire Window newsletter was published between 2008 and 2015.
The customer features, company news, informational articles and more that was great about the newsletter are now at home in the new online Wipaire Window.
Many of the articles featured in the PDFs below are also included in this new Wipaire Window experience.
Wipaire Window PDF Archive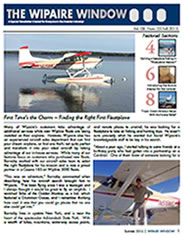 First Time's the Charm – Finding the Right First Floatplane
Scholarship Winners Receive Their Ratings
Earning a Seaplane Rating in "Floatplane Heaven"
Tropic Ocean Airways Helps With Hurricane Relief
The History of Wipaire: 1991-2010
Join Our eNewsletter Email List!