1940-1950: Passion and Vision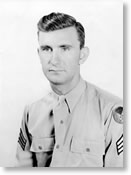 Ben Wiplinger had a strong interest in aviation long before he began working on Wipline floats. As a child, he built his own glider in the backyard of his parent's home. Out of concern for his safety, his parents dismantled the aircraft before he could take it on its maiden voyage. His passion for aviation grew stronger as he went on to study aerospace engineering at the University of Minnesota before moving to California to work for Douglas Aircraft for a period of time. He then returned to Minnesota to work for Northwest Air Activities and Peterson-Curtiss Flying Service at the St. Paul Airport. At the age of 25, Ben was one of only six certified aircraft mechanics working in the Minneapolis/St. Paul area. Ben was drafted into the Army Air Forces of the United States before Pearl Harbor and spent time working in Albuquerque, New Mexico, where he developed a pre-oiling system to help the performance of the bombers. He was awarded several decorations by the military for this engineering contribution.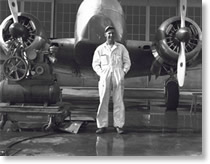 After WWII, Ben returned once again to his roots in Minnesota and began converting surplus military aircraft into corporate aircraft at South St. Paul Airport. By the close of the 1940s, Ben was operating Wiplinger Aircraft Service, an FBO offering fuel service, aircraft sales, maintenance, restoration and upholstery.
During the 1950s, Ben grew and expanded his scope of services. He purchased his first seaplane in 1951 and began flying north on fishing expeditions, thus beginning his passion for seaplane flying. He even developed an improved hydraulic system for his Edo floats. Ben sold 3M their first corporate aircraft, N3M, in 1956 while still pursuing his interest in seaplanes. One of 3M's current aircraft still carries the same registration number. In 1959, Ben sold his FBO business to focus on the next chapter of Wiplinger Aircraft.
Milestones
1960s: Wipline Inc is Born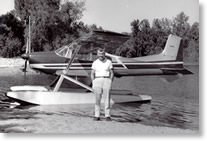 In 1960 Ben officially incorporated Wipline Inc and set to work creating his first set of floats. He purchased a Cessna 185, N9881X, to test the floats on.
To create a better float Ben worked with experts at 3M to develop a metal bonding technique that would allow him to use fewer rivets and therefore acheive a smoother and lighter float. It took 3 years and $8000 to get the patent on this process but Ben knew it was the way to go.
Another innovative idea was the flat top on the float. This allowed pilot and passengers to maneuver into and out of the airplane with much less risk of taking an impromptu swim.
He soon sold his first set of floats. They were sold in 1962 to Ontario Central Airlines.
Soon the Cessna 185 was Certified on 3700 and 3900 Floats followed by the 206 on 3700, 3900 and 3730's.
The Wipline Inc facilities were all located on Fleming Field and they produced around 30 sets of floats in these first 10 years.
Milestones
1970s: The Next Generation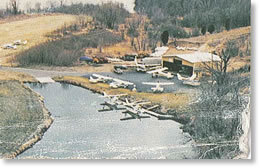 Bob began working at Wipline Inc. in 1970 after receiving his aeronautical engineering degree from U of M and spending a few years working for Honeywell.
In 1971, after Ben purchased the 160 acres of land along the Mississippi River, float manufacturing moved down to the River Road facility and the seaplane base was established.
In 1974 Bob expanded our range of services by founding Wipaire, performing maintenance as a certified Cessna service center at Fleming Field.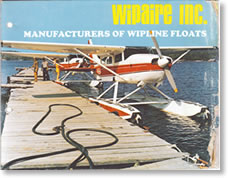 Wipline Inc and Wipaire came together in 1979 when Bob purchased Wipline Inc from his dad.
During the late seventies Ben and Bob decided to tackle a huge project, the Nomad. Though the Nomad Aircraft had a short production run and only resulted in a few sales the design for the Nomad float opened the door to other larger scale projects and became the foundation for the popular Wipline 8000 Float.
Milestones
The 1980s: A Growing Company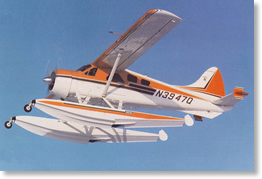 The 80's kicked off with the introduction of the Wipline 6000 Float for the de Havilland Beaver in 1982. More than 10 modifications for the Beaver were introduced over then next few years allowing Wipaire to transform the Beaver to a true Seaplane workhorse.
In 1988 the Wipline 8000 Floats for the Cessna Caravan were released. This was one of our most popular float models until it was superseded by the Wipline 8750 float.
Rick Wahlman was brought on board in '89 to start an Avionics department to better serve our customers. The Refinishing department was also started at this time and allowed us to provide in house paint services to be sure our customers left with their dream plane.
By the mid-80's Wipaire had grown to 35 employees and had sold an incredible 700 sets of floats.
Milestones
1990s: Reaching New Markets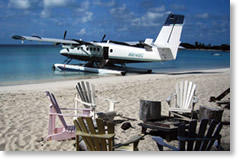 The 90's saw many new modifications and float certifications. The Cessna 206 co-pilot door and "Wip" tips wing extensions, gross weight increases for the Piper Cub and Cessna Caravan, and numerous other modifications were certified.
Our largest floats ever, the Wipline 13000, were certified on the Twin Otter in 1992. Our interiors shop was also opened to provide a well-rounded service experience.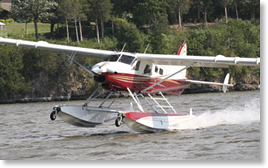 The "Boss Beaver" was introduced in 1996. It combined a selection of our beaver modifications, a turbine engine and our 6000 floats to create a true performance seaplane.
The smallest float in the Wipline family was introduced in '97, the Wipline 2100. The 2350, 3000 and 4000 also joined the team in the 90's.
Milestones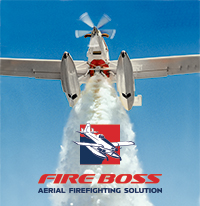 The new century kicked off with the next generation of Wiplingers coming to work for Wipaire. Nancy started in 2000 and Charlie came to Wipaire in 2003.
Wipaire's main offices moved to the new Hangar 1 facility on Fleming Field in 2001.
In 2003 the Fire Boss was introduced. There are now 150+ Fire Boss aircraft in operation as an initial response air tanker fighting fires around
the globe.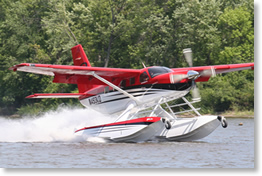 Wipaire received Supplemental Type Certification (STC) of their most recent addition to the Wipline family of products, the Wipline 7000 Amphibious Float installed on the Quest KODIAK, on June 11th, 2010. The Quest KODIAK certification program took roughly three years to complete and included 287 test flights, totaling 162 hours of flying. The hulls are modeled after the successful Wipline 13000 Floats, which have improved rough water handling qualities for float-equipped aircraft. The new floats include the traditional Wipline flat top deck for easy loading and safety. The main gear system has been completely redesigned, which improves reliability and makes for easy maintenance.
Milestones
After 25 years in production and nearly 200 sets in use around the world, Wipaire retired the Wipline 8000 float for the all-new Wipline 8750 float in 2012. The Wipaire engineering team drew upon the successes of the Wipline 7000 and 8000 floats to reinvent this new float for the Cessna 208 Caravan, featuring improved rough water handling qualities and a redesigned main gear system for increased reliability and easy maintenance. The Wipline 8750 was certified in July 2012 on the Cessna 208 Caravan. Certification was received for the Cessna 208B Grand Caravan and the Grand Caravan EX on Wipline 8750 floats in July 2013.
In addition to creating floats for new markets, Wipaire is dedicated to continually improving our existing product line. In 2014, Wipaire received approval for the Boss 182 engine conversion on the Cessna 182. Coupled with gross weight increases, the Lycoming IO-580 engine conversion transforms the Cessna 182 into a versatile and high-performance floatplane.
Wipaire celebrated 60 years of building Wipline floats in 2020. The tradition of engineering innovation and thoughtful features such as flat top decks will continue into the future, with product introductions like the Aurora interior for the Cessna Caravan series. The Aurora interior offers luxurious appointments to an aircraft known for its utilitarian nature, without sacrificing comfort or usability.