de Havilland Twin Otter DHC-6
Whether you use your Twin Otter for work or play Wipaire® can help you get the best performance, and the most enjoyment, during your flight time.
If you've been dreaming of flying your Twin Otter right to the lake then take a look at the Wipline 13000 float. Amphibious or straight models are available for the DHC-6. Wipline® floats are known for both performance and durability and with over 55 years in the business you can buy with confidence knowing that we'll still be here to support our products for years to come.
Maybe your Twin Otter has seen better days. With a full service refinishing and interiors department we can get her looking good as new. While she's here our maintenance team will get her running at the top of her game and with an avionics upgrade you'll be enjoying your air time even more!
Wipaire's aircraft services team prides itself in providing world-class services with the most comprehensive facility in the Midwest. Having full-service maintenance, painting, interior and avionics facilities under one roof is key to assuring minimal ground time for your aircraft and simplifying the process. We also offer a ferry service if it is not convenient for you to bring the aircraft to our facility. Our reputation for quality and convenience is widely known throughout the industry.
Wipaire can get your Twin Otter running, and looking, better than ever. Take a few minutes to browse this page to learn more. If you already have an idea what you need then please contact us to request more information.
Wipline® 13000 Floats for the Twin Otter
From the Maldives to the Canadian North, the Twin Otter has proven itself as the best-selling 19-passenger commuter airplane in the world for over 40 years. Combine this powerful twin-engine aircraft with a set of rugged Wipline 13000 floats and you have an aircraft that will take your operation to the next level.
Features and Benefits
Amphibious or seaplane floats available
Gross weight up to 12,500 pounds for the 300 and 400 series and IKHANA Payload Increase equipped 200, 11,600 pounds for the stock 100 and 200
Wipline hull design features fluted, high deadrise bottoms and extra buoyancy to provide superior handling in high seas and wind
Engineered so that no-flap landings are a non-event, making the Wipline float top of the class in safety
Best nose and main gear on the market, proven in the field and imitated by competitors
Non-skid coated, flat top decks for safety
Enhanced safety with Wipaire's exclusive Laser Gear Advisory system and gear position indicator on the float deck of amphibious floats
Aluminum skins and parts are laser cut and rivet holes are pre-punched so that replacement parts fit perfectly
Replaceable wear strips on main keel for ease of maintenance
Optional beaching gear for straight floats make repositioning the aircraft on shore for maintenance as easy as taxiing up a ramp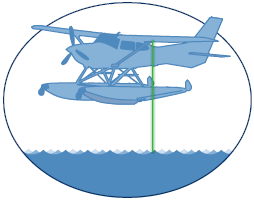 Learn About Our Laser Gear Advisory
Now included at no additional cost on new Wipline float purchases, and available for retrofit on Wipline-equipped aircraft.
Specifications
Float Dimensions
Length – Seaplane
31'3" (9.53 m)
Length – Amphibian
32'5" (9.88 m)
Height – Hull
3'9" (1.14 m)
Width – Hull
4'3″ (1.3 m)
Float Locker Capacity (each)
50 lbs (22.7 kg)
Displacement in Fresh Water
Amphibious Floats
12,442 lbs (5,644 kg)
Seaplane Floats
12,844 lbs (5,826 kg)
Maximum Flotation
Amphibious Floats
13,824 lbs (6,270 kg)1
Seaplane Floats
14,271 lbs (6,473 kg)1

1) Per FAR 23.751with 80% reserve buoyancy (2 floats)
Weight for 13000 Floats on a Twin Otter
Amphibian System Total Weight
2,163 lbs (981 kg)
Amphibian Exchange Weight
1,560 lbs (708 kg)2
Seaplane System Total Weight
1,486 lbs (674 kg)
Seaplane Exchange Weight
883 lbs (461 kg)2
Aircraft Gross Weight for DHC-6-100 & 200
11,600 lbs (5,262 kg)
Aircraft Gross Weight for DHC-6-300 & 400
12,500 lbs (5,670 kg)

2) Exchange weight is equal to the float installation weight minus aircraft landing gear weight.
Twin Otter Performance on Amphibious Floats
Engine
PT6A-20
PT6A-34
Take off run (land)
1,280 ft (390 m)
1,333 ft (406 m)
Take off over 50 ft obstacle (land)
1,770 ft (539 m)
1,843 ft (562 m)
Take off run (water)
1,178 ft (359 m)
1,227 ft (374 m)
Take off over 50 ft obstacle (water)
1,886 ft (575 m)
1,965 ft (599 m)
Rate of climb (per/min)
1,355 ft (413 m)
1,400 ft (427 m)
Pricing
Aircraft
Floats & Rigging
Installation
Total


Amphibious
Seaplane
Amphibious
Seaplane
Amphibious
Seaplane
de Havilland DHC-6 Twin Otter
Call for Pricing
Call for Pricing
Call for Pricing
Call for Pricing
Call for Pricing
Call for Pricing
Modifications
Wipaire® is most often known as being the leading designer and manufacturer of Wipline floats. In reality, Wipaire has been engineering and building the highest performing and most popular aircraft modifications since 1960. While your Beaver is visiting Wipaire why not have a few performance upgrades too!
Hartzell 3-Blade Prop & Spinner

-34 Engine/750 HP Land & Seaplane




If you are looking for a better performance for your DHC-6-300, look no further. Wipaire has Pratt & Whitney PT6A-34 engines approved for the 300 series Twin Otter at 750 hp for both the floatplane and landplane. Takeoff and climb performance are greatly enhanced for a much broader operational envelope, particularly when operating on amphibious floats or straight floats. The additional 130 hp in each engine allows for shorter runway requirements and optimum climb capability when in restricted terrain.

If you are looking for a better performance for your DHC-6-300, look no further. Wipaire has Pratt & Whitney PT6A-34 engines approved for the 300 series Twin Otter at 750 hp for both the floatplane and landplane.

Read More

Interiors for the Twin Otter

If your interior is starting to show its age then why not upgrade with Wipaire®!

Wipaire's aircraft interiors facility is able to do anything from small repairs to complete interior renovations, we'll work with you to formulate the interior that fits your needs.

Committed to quality
Professional grade craftsmanship
Save time! Interior installed concurrent with maintenance

Click Here to Learn More About Our Interiors Services

Twin Otter Executive Interior (STC SA02808CH)

Once only known as a rugged, utility aircraft, the Twin Otter can now be known as a first class executive aircraft. With a Wipaire Executive Interior you can have all the comforts of a business jet. From the luxurious feel of top grain leather to spacious seating arrangements, your passengers will feel pampered from the moment they step onto your Twin Otter. Whether conducting a business meeting en route to their destination or getting a head start on their relaxing vacation, your passengers will find the extra amenities to be a necessity.

The Wipaire Executive Interior for the Twin Otter is available in many configurations to fit your needs and desires. We will work with you to arrange the interior to have the most advantages for you. All Wipaire Executive Interiors feature top-grain leather seats, decorative lower sidewall fabric and a transitional sidewall trim with veneer accent. Rich, wood veneer cabinets, with optional high-gloss finish, store beverage centers, pilot gear, carry-on luggage and more.

Comfort

Custom style and design
Luxurious overstuffed or classic smooth finish seats
Reclining seats for comfort
Full function swivel seats with adjustable arm rests
Supple top grain leather upholstery
Side tables with leather writing inserts
Optional private lavatory

Convenience

Stowable side tables
Power stations
Three-drawer refreshment cabinet with ice compartment
Built-in cup holders
Concealed carry-on storage
Optional entertainment system

Style

Wood veneer, or laminate cabinetry
Brushed aluminum hardware
Plating options available
Top grain leather
Side tables with leather writing inserts
Sidewall accent trim
Decorative lower sidewall fabric

Seating Configurations




8 Seat Configuration




All Models







9 Seat Configuration




Available for Series 200-300 Only







10 Seat Configuration




Available for Series 200-300 Only




Refinishing

If you can imagine it Wipaire® can make it real.

Paint is custom designed and matched to existing elements and can be as simple or exotic as you desire. Airbrushing art and custom decals are part of our everyday processes. Experience and intricate attention to detail are our foundation for creating the highest quality product.

We specialize in custom requests
Meticulous attention to detail
Committed to quality
Custom design service
Craftsmanship with extensive training