ADS-B Compliance Information & Services | About Our Facilities & Services
ADS-B Compliance Information & Services
Click to Complete a Questionnaire and Receive Quotes on a Variety of Compliance Options
Does the ADS-B Mandate Affect Me? YES!
Under the rule, ADS-B Out performance will be required to operate in:
Class A, B, and C.
Class E airspace within the 48 contiguous states and the District of Columbia at and above 10,000 feet MSL, excluding the airspace at and below 2,500 feet above the surface.
Class E airspace at and above 3,000 feet MSL over the Gulf of Mexico from the coastline of the United States out to 12 nautical miles.
Around those airports identified in 14 CFR part 91, Appendix D.
The ADS-B Out rule does not apply in the airspace defined in items 1 and 2 above for any aircraft that was not originally certificated with an electrical system or that has not subsequently been certified with such a system installed, including balloons and gliders. Source:
FAA ADS-B FAQ
The NextGen ADS-B mandate can be a confusing issue to navigate. This simple summary can shed some light on the issue.
Read More
How Can I Get NextGen Ready?
Are you NextGen ready?
For 2 out of 3 of GA aircraft owners the answer is "no."
Let Wipaire help you turn that "no" into a "yes." Book your installation now so you can check "get compliant" off of your to-do list without missing your favorite flying season. To get started complete a simple questionnaire about your aircraft's current avionics, and your mission needs. Then our avionics experts will prepare three quotes covering a range of equipment options. Select a proposal and book your installation. Exact installation times may vary based upon equipment selected, but most general aviation aircraft can expect to become ADS-B compliant in only 1-2 weeks.
"We understand that figuring out how to become ADS-B compliant is complicated and confusing for many pilots and owners. Our goal is to make the process as simple as possible by collecting aircraft information and then leveraging our many relationships with leading avionics manufacturers to present custom-tailored solutions to the owner." – Rick Wahlman, Avionics Manager
Over 100,000 general aviation aircraft will be required to comply with the ADS-B Out mandate. The FAA reports only about a third of the fleet is currently ready for the January 1, 2020 deadline, which the administration is holding firm, citing adequate time to equip from the 2010 announcement as well as the introduction of numerous more affordable systems. Owners and operators not in compliance with the mandate by January 1, 2020 will encounter reduced airspace access.
With the 2020 compliance deadline approaching the majority of the GA fleet is still unequipped. Wipaire aims to simplify the process of getting ready.
Read More
About the FAA NextGen Program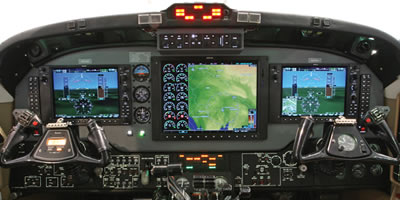 The FAA NextGen program aims to increase the efficiency, capacity and safety of airspace systems around the world. The first core technology in the program is Automatic Dependent Surveillance-Broadcast (ADS-B). By January 1, 2020 aircraft operating in most US controlled airspace must be equipped with ADS-B Out avionics. The goal of this new technology is to increase the safety of our skies. Traditional radar-based systems update every 3-15 seconds but ADS-B Out avionics transmit data once every second! Also, if you are equipped with ADS-B In, you will be able to receive location information directly from the ADS-B Out equipped aircraft around you. To be compliant with the new rule aircraft will need an approved GPS/WAAS as the ADS-B position source and an ADS-B Out datalink radio to relay the information. The datalink radio can be either 1090ES or 978UAT. If you fly below FL180, 978UAT is highly recommended. ADS-B In receivers are not required but are also encouraged as a useful addition to your avionics that will enable you to receive valuable weather and traffic data without a subscription based service. Learn more about this and other NextGen programs and how they affect general aviation at
www.faa.gov/nextgen/ga
A brief overview of the NextGen mandate and its requirements.
Read More
The Ins and Outs of ADS-B
ADS-B Out is the ability to transmit a properly formatted ADS-B message from the aircraft to ground stations and to ADS-B-In-equipped aircraft. ADS-B In is the ability of an aircraft to receive information transmitted from ADS-B ground stations and from other aircraft. ADS-B In is not mandated by the ADS-B Out rule. If an operator chooses to voluntarily equip an aircraft with ADS-B In avionics, a compatible display is also necessary to see the information. Source:
FAA ADS-B FAQ
Data available for both 1090 ES and 978UAT equipped aircraft:
ADS-B Traffic that includes Radar detected aircraft, ADS-B and Transponder equipped aircraft. Also receive traffic data directly from other ADS-B Out equipped aircraft when outside the range of ground stations.
Data available for 978UAT equipped aircraft only:
Subscription Free Weather, AIRMETs, SIGMETs, METARs, NEXRAD, NOTAMs, TFRs, PIREPs, SUA Status, TAFs, and Winds/Temps Aloft.
The mandate only requires ADS-B Out compliance, but what is that and what does ADS-B In add?
Read More
Still have questions about ADS-B compliance?
Contact Rick to Learn More!
Rick Wahlman, Avionics Manager
651-286-7012 | rwahlman@wipaire.com
About Our Facilities & Services
Click Here to View Our Avionics Gallery
FAA Repair Facility #RJWR390K | EASA 145.6194

Servicing anything from corporate jets to homebuilt aircraft, the Wipaire Avionics staff is a team of seasoned FAA certified technicians with well over 100 years of combined experience. Wipaire avionics takes pride in the ability to repair and refurbish pre-owned equipment. To view our current pre-owned avionics equipment for sale, please click here. Of course, we can also install any number of components or completely re-build your panel from the floor-board up! Our experience is evident in the fact that we have been a top ten seller of S-TEC autopilot systems and are consistently in the top 15% in Garmin sales worldwide.
Avionics Services Available
Installation and repair services including bench work
In-flight entertainment systems
Satellite phones and internet
Custom infrared and external camera installations
VFR and IFR Certifications
Authorized distributor and warranty / service center for most major avionics manufacturers including the following:

For more information, please contact Wipaire:

Phone: 651-451-1205
Toll Free: 1-888-947-2473
Contact Us
Ask a Question or Request a Quote