Whether you use your Porter for work or play Wipaire can help you get the best performance, and the most enjoyment, during your flight time.
If you've been dreaming of flying your Porter right to the lake then take a look at the Wipline 6100 Float. Amphibious or straight models are available for the PC-6. Wipline Floats are known for both performance and durability and with over 55 years in the business you can buy with confidence knowing that we'll still be here to support our products for years to come.
Maybe your PC-6 has seen better days. With a full service Refinishing and Interiors department we can get her looking good as new. While she's here our Maintenance team will get her running at the top of her game and with an Avionics upgrade you'll be enjoying your air time even more!
Wipaire's aircraft services team prides itself in providing world-class services with the most comprehensive facility in the Midwest. Having full-service maintenance, painting, interior and avionics facilities under one roof is key to assuring minimal ground time for your aircraft and simplifying the process. We also offer a ferry service if it is not convenient for you to bring the aircraft to our facility. Our reputation for quality and convenience is widely known throughout the industry.
Wipaire can get your Pilatus Porter running, and looking, better than ever. Take a few minutes to browse this page to learn more. If you already have an idea what you need then please contact us to request more information.
Wipline 6100 Floats for the Pilatus Porter
For outstanding performance and reliability at major international airports or in bush country, Wipaire presents the Wipline 6100 Float.
The 6100 Floats are true workhorses – yet minimal maintenance is required for years of dependable service. The floats are designed to allow full use of the new high-gross kits currently offered for the Mark I and Mark III Beaver and the Pilatus Turbo Porter. They provide similar takeoff performance to other floats, yet due to the unique aerodynamic design, they provide increased cruise speeds.
Construction of Wipline 6100 Floats follow Wipline's performance-proven and patented formula. The float bottoms are specially fluted and angled, providing rough-water stability and heavy-weight takeoff performance. The float tops are flat for safe boarding of crew and passengers.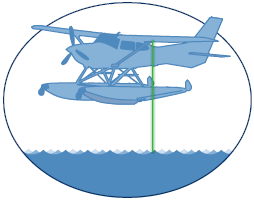 Learn About Our Laser Gear Advisory
Now included at no additional cost on new Wipline float purchases,
and available for retrofit on Wipline-equipped aircraft.
Specifications
Float Dimensions
Length – Seaplane
24'7″ (7.49 m)
Length – Amphibian
25′ (7.62 m)
Height – Hull
2'10" (0.86 m)
Width – Hull
3'3″ (0.99 m)
Float Locker Capacity (each)
50 lbs (22.7 kg)
Displacement in Fresh Water
Amphibious Floats
5,518 lbs (2,503 kg)
Seaplane Floats
5,664 lbs (2,569 kg)
Maximum Flotation
Amphibious Floats
6,131 lbs (2,781 kg)1
Seaplane Floats
6,293 lbs (2,854 kg)1

1) Per FAR 23.751with 80% reserve buoyancy (2 floats)
Weight for 6100 Floats on a PC-6/B2-H4
Amphibian Exchange Weight
898 lbs (408 kg)2
Seaplane Exchange Weight
422 lbs (192 kg)2

2) Exchange weight is equal to the float installation weight minus aircraft landing gear weight.
Pricing
Aircraft
Floats & Rigging
Installation
Total
Amphibious
Seaplane
Amphibious
Seaplane
Amphibious
Seaplane
de Havilland DHC-2 Mk I
$232,400
$116,100
$11,900
$7,600
$244,300
$123,700
de Havilland DHC-2 Mk III
$261,400
$143,700
$13,200
$9,100
$274,600
$152,800
Pilatus PC-6 B2/H4
$263,600
$145,500
$18,800
$16,000
$282,400
$161,500