Click Here to View Our 6100 Floats Gallery
For outstanding performance and reliability at major international airports or in bush country, Wipaire presents the Wipline 6100 Float.
The 6100 Floats are true workhorses — yet minimal maintenance is required for years of dependable service. The floats are designed to allow full use of the new high-gross kits currently offered for the Mark I and Mark III Beaver and the Pilatus Turbo Porter. They provide similar takeoff performance to other floats, yet due to the unique aerodynamic design, they provide increased cruise speeds.
Wipline 6100 Floats are available for installation on: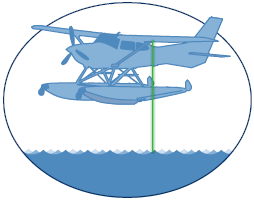 Learn About Our Laser Gear Advisory
Now included at no additional cost on new Wipline float purchases, and available for retrofit on Wipline-equipped aircraft.
Specifications
Float Dimensions
Length – Seaplane
24'7" (7.49 m)
Length – Amphibian
25' (7.62 m)
Height – Hull
2'10" (0.86 m)
Width – Hull
3'3" (0.99 m)
Float Locker Capacity (each)
50 lbs (22.7 kg)
Displacement in Fresh Water
Amphibious Floats
5,518 lbs (2,503 kg)
Seaplane Floats
5,664 lbs (2,569 kg)
Maximum Flotation
Amphibious Floats
6,131 lbs (2,781 kg)1
Seaplane Floats
6,293 lbs (2,854 kg)1

1) Per FAR 23.751with 80% reserve buoyancy (2 floats)
Weight for 6100 Floats on a de Havilland Beaver
Amphibian Exchange Weight
885 lbs (402 kg)2
Seaplane Exchange Weight
467 lbs (212 kg)2
Aircraft Gross Weight
5,600 lbs (2,540 kg)

2) Exchange weight is equal to the float installation weight minus aircraft landing gear weight.
Wipline 6100 Pricing
| Aircraft | Amphibious Floats & Rigging | Installation | Total |
| --- | --- | --- | --- |
| de Havilland DHC-2 Mk I | Call for Price | Call for Price | Call for Price |
| de Havilland DHC-2 Mk III | Call for Price | Call for Price | Call for Price |
| Pilatus PC-6 B2/H4 | Call for Price | Call for Price | Call for Price |