Whether you use your Stationair for work or play Wipaire can help you get the best performance, and the most enjoyment, during your flight time.
If you've been dreaming of flying your Stationair right to the lake then take a look at Wipline 3450 Floats. Amphibious or Straight models are available for the Cessna 206. Wipline Floats are known for both performance and durability and with over 55 years in the business you can buy with confidence knowing that we'll still be here to support our products for years to come.
Maybe your Stationair has seen better days. With a full service Refinishing and Interiors department we can get her looking good as new. While she's here our Maintenance team will get her running at the top of her game and with an Avionics upgrade you'll be enjoying your air time even more!
Wipaire's aircraft services team prides itself in providing world-class services with the most comprehensive facility in the Midwest. Having full-service maintenance, painting, interior and avionics facilities under one roof is key to assuring minimal ground time for your aircraft and simplifying the process. We also offer a ferry service if it is not convenient for you to bring the aircraft to our facility. Our reputation for quality and convenience is widely known throughout the industry.
Wipaire can get your Stationair running, and looking, better than ever. Take a few minutes to browse the tabs on this page to learn more. If you already have an idea what you need then please contact us to request more information.
Wipline 3450 Floats for the 206
Whether flying to the remote glaciers of Alaska's Denali National Park or hopping between white sand beaches of the islands, Wipaire can outfit your Cessna 206 Stationair with the versatility you need for work and play. Wipline 3450 floats are engineered to offer rugged durability and outstanding performance, giving you the freedom to explore.
Features and Benefits
Amphibious or seaplane floats available
Features 200 pounds more maximum flotation than our competitor (up to 4,000 pounds for the amphibious and 4,196 pounds for seaplane floats)
Significantly more forward buoyancy for safer and easier downwind taxiing and upwind turns
Largest gross weight increase in the market, 3,792 pounds approved for takeoff and landing weights
Four point strut attachment is more stable in all loading configurations, especially critical for heavy loads
Best nose and main gear on the market, proven in the field and imitated by competitors
Internal cables for water rudder controls
Non-skid coated, flat top decks for safety
Enhanced safety with Wipaire's exclusive Laser Gear Advisory system and gear position indicator on the float deck of amphibious floats
Two large float hatches for gear with 50 pounds carrying capacity each
Aluminum skins and parts are laser cut and rivet holes are pre-punched so that replacement parts fit perfectly
Replaceable wear strips on mail keel for ease of maintenance
Our Wipline 3450 Floats are also approved on the Cessna 206 with the "Turbine Cessna 206 Mark 2 Conversion" by Soloy Aviation Solutions. Click Here to visit the Soloy website and learn more about this engine upgrade.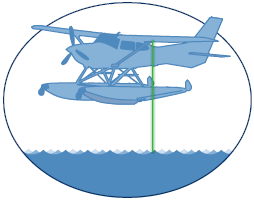 Learn About Our Laser Gear Advisory
Now included at no additional cost on new Wipline float purchases, and available for retrofit on Wipline-equipped aircraft.
Specifications
Float Dimensions
Length – Seaplane
22'10" (6.96 m)
Length – Amphibian
23'5″ (7.13 m)
Height – Hull
2'5″ (0.74 m)
Width – Hull
2'8″ (0.81 m)
Float Locker Capacity (each)
50 lbs (22.7 kg)
Displacement in Fresh Water
Amphibious Floats
3,600 lbs (1,633 kg)
Seaplane Floats
3,776 lbs (1,713 kg)
Maximum Flotation
Amphibious Floats
4,000 lbs (1,814 kg)1,2
Seaplane Floats
4,196 lbs (1,903 kg)1
1) Per FAR 23.751with 80% reserve buoyancy (2 floats)
2) 206H (normally aspirated) has a gross weight restriction of 3,775 lbs for land takeoff only.
Weight for 3450 Floats on a Cessna 206
Amphibian System Total Weight
694 lbs (315 kg)
Amphibian Exchange Weight
532 lbs (241 kg)3
Seaplane System Total Weight
491 lbs (223 kg)
Seaplane Exchange Weight
329 lbs (149 kg)3
Aircraft Gross Weight
3,792 lbs (1,720 kg)

3) Exchange weight is equal to the float installation weight minus aircraft landing gear weight.
Cessna 206 Performance on Amphibious Floats
Model
206H
T206H
Engine
IO-540 (300 HP)
TIO-540 (310 HP)
Take off run (land)
1,146 ft (349 m)
1,132 ft (345 m)
Take off over 50 ft obstacle (land)
1,830 ft (558 m)
1,876 ft (572 m)
Take off run (water)
1,770 ft (539 m)
1,821 ft (555 m)
Take off over 50 ft obstacle (water)
2,850 ft (869 m)
2,954 ft (900 m)
Rate of climb (per/min)
770 ft (235 m)
982 ft (299 m)
Pricing
Aircraft
Floats & Rigging
Installation
Total


Amphibious
Seaplane
Amphibious
Seaplane
Amphibious
Seaplane
Cessna A185E, F
Call for Price
Call for Price
Call for Price
Call for Price
Call for Price
Call for Price
Cessna 206H, T206H
Call for Price
Call for Price
Call for Price
Call for Price
Call for Price
Call for Price
Cessna T/U206 (through G model
Call for Price
Call for Price
Call for Price
Call for Price
Call for Price
Call for Price
Modifications for the Cessna 206
Wipaire is most often known as being the leading designer and manufacturer of Wipline floats. In reality, Wipaire has been engineering and building the highest performing and most popular aircraft modifications since 1960. We offer a long list of the industry's finest performance enhancing modifications and factory upgrades for the 206.
Select a modification to learn more:
Additional modifications available include:
Flint Tip Tanks
Hartzell & McCauley Prop Mods
Modification Pricing
Call for Current Pricing
Interiors for the Cessna 206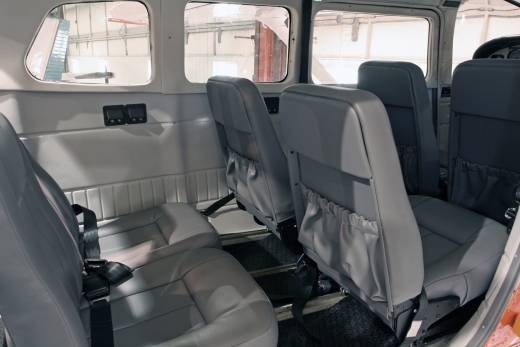 If your interior is starting to show its age then why not upgrade!
Wipaire's aircraft interiors facility is able to do anything from small repairs to complete interior renovations, we'll work with you to formulate the interior that fits your needs.
Committed to quality
Professional grade craftsmanship
Save time! Interior installed concurrent with maintenance
Refinishing for the Cessna 206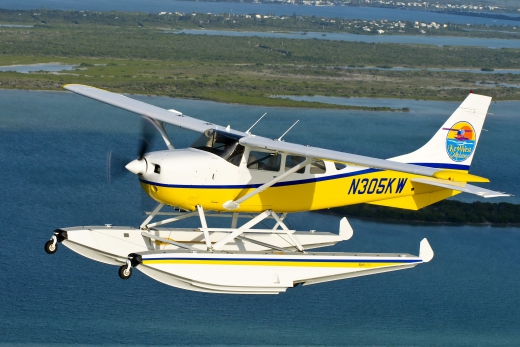 If you can imagine it we can make it real. Paint is custom designed and matched to existing elements and can be as simple or exotic as you desire. Airbrushing art and custom decals are part of our everyday processes. Experience and intricate attention to detail are our foundation for creating the highest quality product.
We specialize in custom requests
Meticulous attention to detail
Committed to quality
Custom design service
Craftsmanship with extensive training