Flying to the remote Canadian Shield or hopping between white sand beaches of the islands, Wipaire can outfit your Caravan with the versatility you need. The Cessna Caravan is frequently referred to as the sport utility vehicle of the air. Combine this workhorse of an aircraft with a set of rugged Wipline 8750 floats and our performance, convenience or utility enhancing modifications and you have an aircraft that will fly you from business meeting to your weekend getaway.  
Features and Benefits
Amphibious or seaplane floats available
The 208 Caravan has a gross weight increase to 8,750 pounds on floats, an increase of 750 lbs from the stock Caravan gross weight
The 208B Caravan has a gross weight of 9,062 pounds on floats, a 255 pound increase over the Grand Caravan EX stock gross weight
Available for the Grand Caravan EX, Grand Caravan with Blackhawk XP140 Performance Upgrade, and the 675 hp Grand Caravan
Features more buoyancy at the aft of the float than the legacy 8000 float
Hull features fluted, high deadrise forward bottoms and extra buoyancy — inspired by our very successful 13000 float for the Twin Otter, which is renowned for its superior handling in high seas and wind
Best nose and main gear on the market, proven in the field and imitated by competitors
Low maintenance main gear retraction mechanism and oleo design with no latches or slides to lubricate or stick
Main gear oil bath wheels reduce maintenance and replacement costs by continuously lubricating the wheel bearings
Internal cables for water rudder controls
Non-skid coated, flat top decks for safety
Enhanced safety with Wipaire's exclusive Laser Gear Advisory system and gear position indicator on the float deck of amphibious floats
Four large float hatches for gear with 150 pounds carrying capacity each
Aluminum skins and parts are laser cut and rivet holes are pre-punched so that replacement parts fit perfectly
Replaceable wear strips on main keel for ease of maintenance
Wipline 8750 Floats are available for installation on: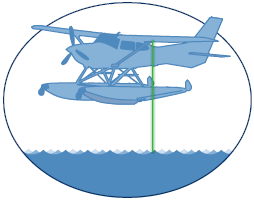 Learn About Our Laser Gear Advisory
Now included at no additional cost on new Wipline float purchases, and available for retrofit on Wipline-equipped aircraft.
Specifications
Float Dimensions
Length – Seaplane
31'2" (9.5 m)
Length – Amphibian
31'9" (9.68 m)
Height – Hull
3'3" (0.99 m)
Width – Hull
3'6" (1.07 m)
Float Locker Capacity (each)
150 lbs (68 kg)
Displacement in Fresh Water
Amphibious Floats
8,240 lbs (3,738 kg)
Seaplane Floats
8,741 lbs (3,965 kg)
Maximum Flotation
Amphibious Floats
9,155 lbs (4,153 kg)1
Seaplane Floats
9,712 lbs (4,405 kg)1

1) Per FAR 23.751with 80% reserve buoyancy (2 floats)
Weight for 8750 Floats on a Cessna 208, 208B and 208B-EX
Amphibian System Total Weight
1,678 lbs (761 kg)
Amphibian Exchange Weight
1,142 lbs (518 kg)2
Seaplane System Total Weight
1,294 lbs (587 kg)
Seaplane Exchange Weight
757 lbs (343 kg)2
Aircraft Gross Weight for 208
8,750 lbs (3,969 kg)
Aircraft Gross Weight for 208B, 208B-EX
9,062 lbs (4,110 kg)

2) Exchange weight is equal to the float installation weight minus aircraft landing gear weight.
Cessna 208 Performance on Amphibious Floats
Model
Caravan
Grand Caravan
Engine
PT6A-114A (675 HP)
PT6A-140A (867 HP)
Take off run (land)
1,431 ft (436 m)
1,826 ft (556 m)
Take off over 50 ft obstacle (land)
2,422 ft (738 m)
2,425 ft (739 m)
Take off run (water)
2,341 ft (714 m)
2,000 ft (610 m)
Take off over 50 ft obstacle (water)
3,660 ft (1,116 m)
3,270 ft (997 m)
Rate of climb (per/min)
947 ft (289 m)
1,212 ft (369 m)
Wipline 8750 Pricing
Aircraft
Floats & Rigging
Installation
Total


Amphibious
Seaplane
Amphibious
Seaplane
Amphibious
Seaplane
Cessna 208
Call for Price
Call for Price
Call for Price
Call for Price
Call for Price
Call for Price
Cessna 208B, 208B EX
Call for Price
Call for Price
Call for Price
Call for Price
Call for Price
Call for Price
The Wipline 8750 float comes with all rigging and hardware necessary to attach floats to aircraft, boiler plate, FAA STC documents, and POH. All provisions for a gross weight increase to 8,750 pounds while in floatplane configuration and gross weight increase to 8.360 pounds while in landplane configuration (including STC) are included for the Cessna model 208, and all provisions for a gross weight increase to 9,062 pounds while in floatplane configuration are included for the Cessna model 208B and 208B EX. A gross weight increase for the Cessna 208B and 208B EX in the landplane configuration is available from Aero Acoustics. Contact your sales representative for more information. Gear Advisory is also included with Wipline 8750 amphibious floats.

Pricing assumes Cessna Caravan is a standard factory aircraft and is equipped with TKS, G1000 avionics package, 200 amp starter/gen, relish tray, and 3-blade Hartzell propeller. Pricing will vary if equipped with Wipaire Single Point Fueling
system. Non-standard aircraft may be subject to additional installation charges.

Cessna 208 floats and rigging and installation charge reflects a float-kitted aircraft with seaplane rudder, 106"
seaplane propeller, inboard fueling caps, and stowed seaplane air stair cables. Aircraft S/N 14 and below not eligible for floats.

Credit for previously installed Wipaire firewall modification (kit 1001029) may be applicable. Consult your sales representative for more information.
First-time removal of belly pod: paint belly, relocate antennae, cap lines, wires, etc. Parts not included in removal price.

TKS cargo pod - $18,105.
Removal of cargo pod - $13,265.
Removal of TKS blister pod - $9,160.
Contact your sales representative for information and pricing on seasonal removals and installations.

Float paint option:


Overall base color to match aircraft is included.
Two trim colors to match scheme of aircraft is included.
Additional trim colors quoted per color and paint scheme.
Complex paint scheme, inboard and bottom painting of floats, please call for pricing.
Paint information and paint scheme will be requested at the time of deposit. If paint colors are not provided, we will match colors to the best of our ability, but will not guarantee 100% match or a definite delivery date.
Customer choice of polyurethane or silver-gray submersion paint is included. There is no paint warranty for polyurethane painted floats stored in water for extended periods.

Wide step upgrade (cargo door steps only, includes nonskid) - $575.
Landing gear mirror - $685 installed (set of 2).
Gross weight increase to 9,187 pounds is now available for the 208B EX, and 208B with the Blackhawk XP140 engine conversion, on Wipline 8750 floats - $12,500

Prices in U.S. dollars, FOB St. Paul, Minnesota, USA, and are subject to change without notice. Prices do not include taxes, duties or tariffs. They also may vary if custom work is required or requested.

Effective for floats quoted after September 7, 2018.