Whether you use your Twin Otter for work or play Wipaire can help you get the best performance, and the most enjoyment, during your flight time.
If you've been dreaming of flying your Kodiak right to the lake then take a look at the Wipline 7000 Float. Amphibious or straight models are available for the Kodiak. Wipline Floats are known for both performance and durability and with over 55 years in the business you can buy with confidence knowing that we'll still be here to support our products for years to come.
Maybe your Kodiak is in need of a new look. With a full service Refinishing and Interiors department we can get her looking good as new. While she's here our Maintenance team will get her running at the top of her game and with an Avionics upgrade you'll be enjoying your air time even more!
Wipaire's aircraft services team prides itself in providing world-class services with the most comprehensive facility in the Midwest. Having full-service maintenance, painting, interior and avionics facilities under one roof is key to assuring minimal ground time for your aircraft and simplifying the process. We also offer a ferry service if it is not convenient for you to bring the aircraft to our facility. Our reputation for quality and convenience is widely known throughout the industry.
Wipaire can get your Kodiak running, and looking, better than ever. Take a few minutes to browse this page to learn more. If you already have an idea what you need then please contact us to request more information.
Wipline 7000 Floats for the KODIAK
The 7000 model float is the first model that Wipaire, established pros of the floatplane world, has built using the very latest digital technologies from its inception. With an eye to making some both ideological and design changes, Bob Wiplinger, company owner, and Charlie Wiplinger, vice president of engineering, gathered a team of engineers and CAD drafters who designed and built the float in unprecedented time. In an email of appreciation after the maiden flight, Charlie Wiplinger said it was made possible by, "one of the finest R&D teams the general aviation industry has ever seen and the indispensible help from our entire manufacturing and Wipaire services personnel who delivered flawlessly when called upon by the R&D team. This feat is a true testament to the dedication and hard work of our employees as we went from CAD model to flying prototype in as little as two months."
The KODIAK, a single engine turbine designed for remote area operations, coupled with Wipaire's sleek, rugged floats will be an unbeatable match for serious flyers desiring the comforts of home in the wildest locations. The floats are designed to resist abrasion from rocky shorelines and careful attention was paid to the float construction should an off-site repair become necessary. Other structural enhancements for the comfort and safety of its users were also implemented on the 7000 float.
Over the years, Wipaire has developed a full line of aircraft floats for all sizes of aircraft, from the Piper Cub to the de Havilland Twin Otter, as well as over 100 Supplemental Type Certificates for a variety of useful aircraft modifications. In addition, Wipaire has expanded into other areas, including a full service maintenance department, avionics installation and repair, custom and luxury interior installation, and a paint and refinishing facility.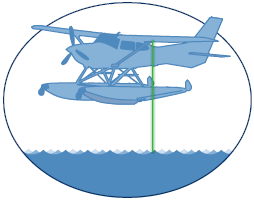 Learn About Our Laser Gear Advisory

Now included at no additional cost on new Wipline float purchases, and available for retrofit on Wipline-equipped aircraft.
Specifications
Float Dimensions
Length – Amphibian
23'8" (7.20 m)
Height – Hull
3'3" (0.99 m)
Width – Hull
3'6″ (1.07 m)
Displacement in Fresh Water
Amphibious Floats
6,808 lbs (3,088 kg)
Maximum Flotation
Amphibious Floats
7,500 lbs (3,402 kg)1

1) Per FAR 23.751with 80% reserve buoyancy (2 floats)
Weight for 7000 Floats on a KODIAK
Amphibian System Total Weight
1,435 lbs (651 kg)
Amphibian Exchange Weight
993 lbs (450 kg)2
Aircraft Gross Weight
7,255 lbs (3,291 kg)

2) Exchange weight is equal to the float installation weight minus aircraft landing gear weight.
KODIAK Performance on Amphibious Floats
Engine
PT6A-34 (750 shp)
Take off run (land)
1,474 ft (449 m)
Take off over 50 ft obstacle (land)
2,290 ft (698 m)
Take off run (water)
1,658 ft (505 m)
Take off over 50 ft obstacle (water)
2,710 ft (826 m)
Rate of climb (per/min)
1,199 ft (365 m)
Pricing
| Aircraft | Amphibious Floats & Rigging | Installation | Total |
| --- | --- | --- | --- |
| Quest KODIAK 100 | Call for Pricing | Call for Pricing | Call for Pricing |
Modifications
Wipaire is most often known as being the leading designer and manufacturer of Wipline floats. In reality, Wipaire has been engineering and building the highest performing and most popular aircraft modifications since 1960. We offer several convenience and performance enhancing modifications for the Kodiak.
Select a modification to learn more:
Single Point Fueling




Outfit your Kodiak with Wipaire's single point fueling system and save time. Adding single point fueling capability makes your fuel stops at airports simpler, safer and faster. This modification enables your Kodiak to be fueled by standard fueling trucks at ground level removing the requirement for tall ladders and filling tanks individually. Reduce your fueling time so you can get on to your destination faster!

Available on floats or wheels
Compatible with G1000 or resistive fuel systems
Easy to use digital touch screen control panel
High precision fuel measurement controls
Electronic fuel level monitoring for reliable fuel top off
Measure fuel in gallons, liters, kilograms or pounds
Master power not required to fuel
Pilot does not need to be present during refueling
Eliminate the risk of TKS anti-ice system or wing damage from over-the-wing fueling

Single Point Fueling Specifications

Installation Weight
36 lbs (16 kg)
Refueling Rate
45 gal/min at 40 psi
Power Requirement
5 amps DC
Install Location
– Control in the step area of the baggage compartment near the aft left hand door.
– Nozzle is just aft of the left hand aft door.

Outfit your Kodiak with Wipaire's single point fueling system and save time. Adding single point fueling capability makes your fuel stops at airports simpler, safer and faster.

Read More

Hartzell 3-Blade Propeller Upgrade




Static thrust increases by 15%
Take off roll on water is reduced by up to 8 seconds
Distance required to climb over a 50 foot obstacle during take off is reduced by 400-600 feet.
Hartzell Propeller HC-B3TN-3D(Y)/T10282NS, 102″ Diameter 3-Blade

This modification gives your Kodiak increased thrust and take-off performance.

Read More
Additional modifications available include:
Heavy Seas Kit
Fuel Handles and Step
17″ & 19″ Camera Windows
Modification Pricing
Call for Current Pricing
Interiors for the Kodiak

If your interior is starting to show its age then why not upgrade!

Wipaire's aircraft interiors facility is able to do anything from small repairs to complete interior renovations, we'll work with you to formulate the interior that fits your needs.
Committed to quality
Professional grade craftsmanship
Save time! Interior installed concurrent with maintenance
Click Here to Learn More About Our Interiors Services
Refinishing
We specialize in custom requests
Meticulous attention to detail
Committed to quality
Custom design service
Craftsmanship with extensive training