Phone: 651-451-1205 | Toll Free: 1-888-947-2473 | Contact Us | Ask a Question or Request a Quote
Why Fly Wipline Floats?
Durability
"Corrosion issues on the Wipline floats are the least of our worries due to the treatment that Wipaire carries out on the floats during construction."
Trans Maldivian Airways
Convenience
"Wipline amphibious floats allow us to meet our guests at the end of their airline travel and whisk them away directly to their vacation destination."
Rob Ceravolo – Tropic Ocean Airways
Performance
"The way the thing handles in the water is just unbelievable. The nose comes up, it kind of rolls forward on the step and flies right away."
Ray Cook – Owner/Operator of a set of Wipline 2100 floats
Features & Benefits of Wipline Floats
Whether flying to the remote glaciers of Alaska's Denali National Park or hopping between white sand beaches of the islands, Wipline floats offer the versatility you need for work and play. Available in seaplane and amphibious configurations for a wide range of aircraft. Wipline floats are engineered to offer rugged durability and outstanding performance, giving you the freedom to explore.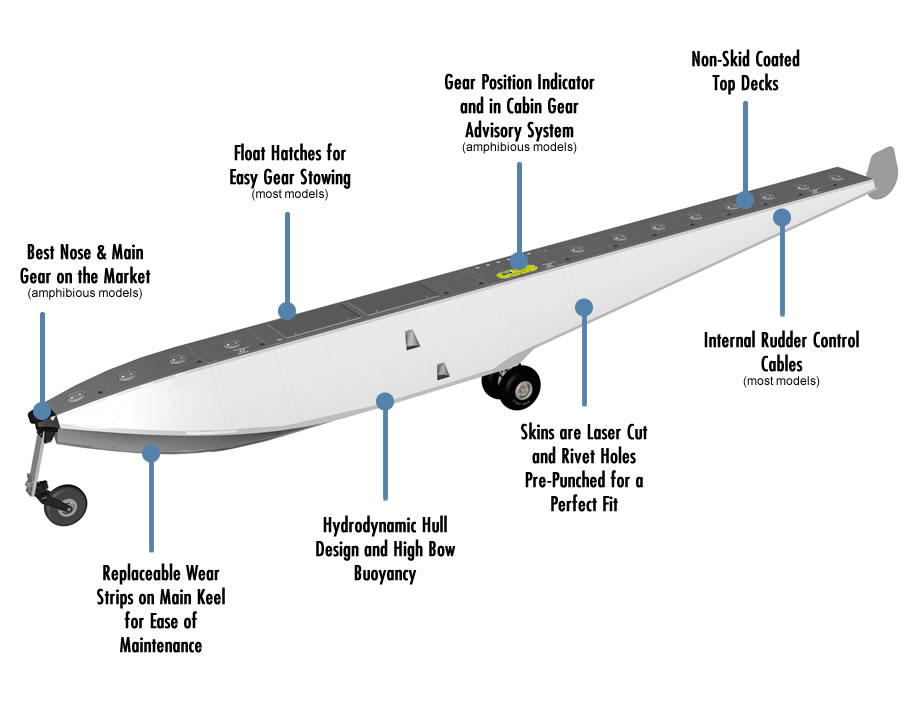 To Learn More Select a Float Model:
Or Select An Aircraft Make & Model
Modifications by Wipaire
Wipaire offers a variety of performance, convenience and utility enhancing modifications. From Super Cub to Caravan, we can help you get more out of your aircraft.
To Learn More Select an Aircraft:
Services by Wipaire
South St. Paul, MN

FAA Repair Facility #RJWR390K
EASA 145.6194
Leesburg, FL

FAA Repair Facility #RJWD390K
Cayman 212-CAY-AMO-2016
Brazil 1607-43/ANAC
Wipaire invites you to experience our variety of world-class services including maintenance, avionics, refinishing and interiors. Our aircraft services are held to the same high standards of excellence that our customers around the world have come to expect when they bring their aircraft to us for modifications, performance upgrades, and of course, floats.
Our nationally recognized professional staff, state-of-the-art equipment and convenient locations in South St. Paul, Minnesota, and Leesburg, Florida*, make Wipaire ready to deliver award-winning results for your next project. Give us a call and experience for yourself the Wipaire difference!
*Select services available at our Leesburg, FL location. Call for details.
Interior Services – Restoration, Repair and Replacement
Wipaire's aircraft interiors facility able to do anything from small repairs to complete interior renovations for almost any kind of aircraft from a Piper Cub to business jets. We pride ourselves on the high quality and the superior craftsmanship of our technicians as well as coordinating with other Wipaire services you are receiving to provide the most expedient and convenient service experience possible.
Whether utility or luxury is the goal, we can help. Creating executive interiors or just adding a touch of home – we'll work with you to formulate the interior that fits your needs.
About Our Interiors Services | Custom Design Services | View Our Interiors Gallery
Aurora Interior for the Caravan Series | Executive Interior STC for the Twin Otter
Paint Refinishing – Touch Ups to Total Transformations
You don't have to be on floats to take advantage of Wipaire's aircraft refinishing services. Our facility and paint technician talent has the ability to strip and paint any aircraft from a single engine aircraft to a small business jet, whether matching your floats to your airplane or indulging in a complete makeover for a Citation 650 or rotorcraft. At Wipaire our main concerns are quality of craftsmanship, care of your aircraft while it is at our facility, and your convenience and satisfaction.
Learn About the Wipaire Paint Process | View Our Paint Refinishing Gallery
Avionics – Sales, Service and Repairs
Wipaire offers avionics services at both our South St. Paul, MN headquarters and our Leesburg, Florida location. Servicing anything from corporate jets to homebuilt aircraft, the Avionics staff is a team of seasoned FAA certified technicians with well over 100 years of combined experience.
Are you NextGEN Ready? | The Ins and Outs of ADS-B | About Our Avionics Services
Maintenance – Service, Restoration and Repair
Wipaire has been providing aircraft maintenance and float installations for over 25 years. Wipaire is an FAA certified repair station, as well as a Cessna Single Engine & Caravan Service Facility and a Viking Factory Endorsed Service Centre. Wipaire offers maintenance services at both our South St. Paul, MN headquarters and our Leesburg, Florida location.
We can also complete any of your restoration or upgrade needs.  From annual inspections to wing tip extensions to vortex generators to engine upgrades, major to minor, we are here to help. 
About Our Maintenance Services | Airframe & Engine Services | Modification Installation
Aircraft Sales & Acquisitions by Wipaire

Today, buyers and sellers expect more from their aircraft sales professional than ever before.  At Wipaire, we bring a wealth of experience to meet those expectations. Wipaire has a reputation that stands for quality and integrity. Our sales staff has experience, knowledge and the skills to facilitate aircraft transactions from beginning to end. Our number one goal is to focus on our customers and surpass their needs and expectations.
We support this effort with a team of professional aviation enthusiasts who are passionate about what they do. As a family-owned business, Wipaire's success has been built on lifelong relationships. Because of Wipaire's standing in the aviation community and marketing, our potential client base circles around the world.
Aircraft for Sale Listing | About Our Aircraft Sales Services | Selling Made Easy | Buying Made Easy
We Look Forward to Serving You!
For more information about any of our products or services, please contact us today!
Phone: 651-451-1205
Toll Free: 1-888-947-2473
Ask a Question or Request a Quote