Standard Finish Packages | Seating Configurations
Introducing a new standard in comfort, luxury and utility.
With an Aurora interior by Wipaire you can have all the comforts of a business jet. From the luxurious feel of supple leather to spacious seating arrangements, your passengers will feel pampered from the moment they step onto your Caravan. Whether conducting a business meeting en route to their destination or getting a head start on their relaxing vacation, your passengers will find the extra amenities indispensable. Top grain leather or premium cloth upholstery
Overstuffed or smooth finish seats
Full function swivel and recline seats
Adjustable arm rests
Side tables with leather writing inserts
Optional divan seat with portable potty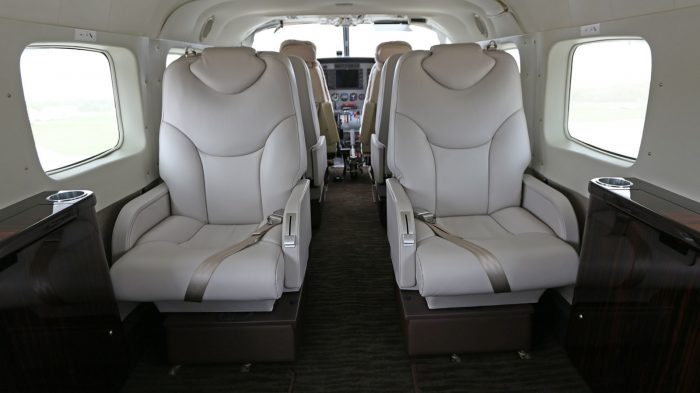 Stowable side tables
Three-drawer refreshment cabinet with ice compartment
Built-in cup holders
Concealed under seat storage
Optional power stations
Optional entertainment system
Optional divan seat with portable potty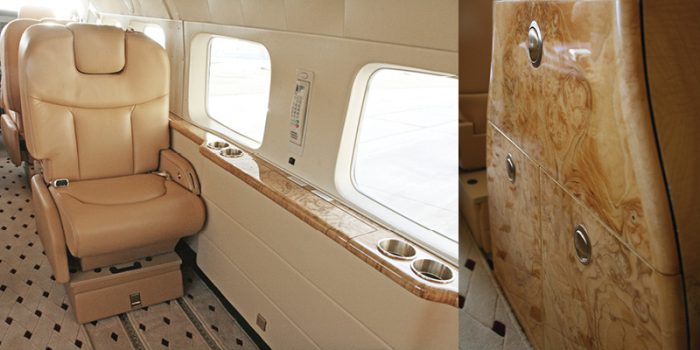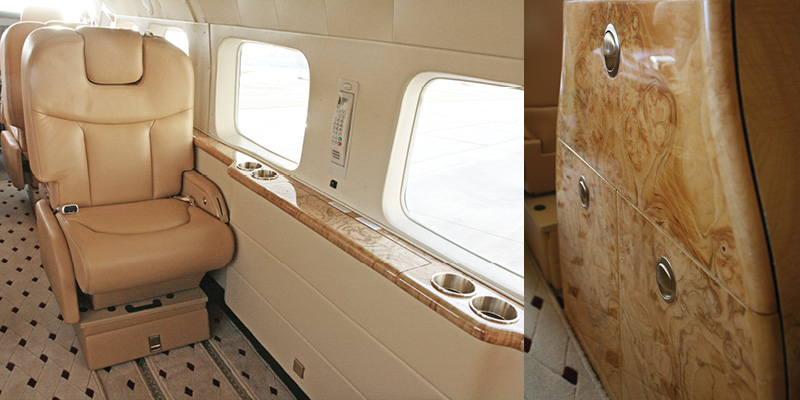 Wood veneer, leather wrapped, or laminate cabinetry
Top grain leather or premium cloth upholstery
Brushed aluminum or custom plated hardware
Side tables with accent leather writing inserts
Sidewall accent trim
Decorative lower sidewall fabric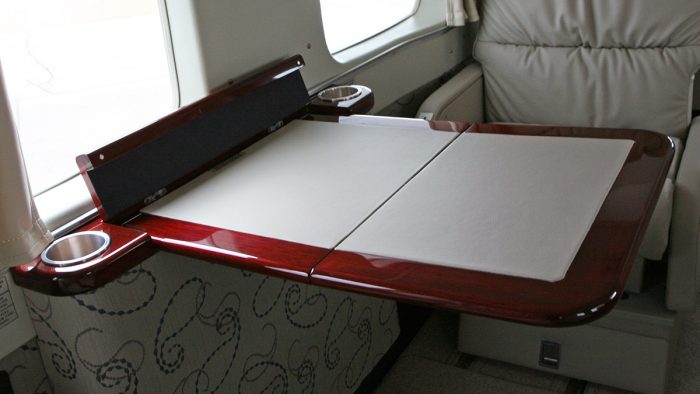 6 Passengers | Cessna 208 Caravan
Fully articulating reclining executive seats covered in sumptuous leather with coordinating 3-point passenger seat belts
2-place cushioned divan with storage cabinet
Folding tables with matching leather writing insert & accents (2)
3-drawer pyramid refreshment cabinet & storage cabinet with your choice of high-gloss or matte wood veneer, leather-wrapped cabinet with veneer accents, or laminate finishes
New wool carpet with choice of bound or serged edges
New sidewall fabric
Cessna Grand Caravan 208B & 208B-EX
8 Passengers | Cessna 208B & 208B-EX Grand Caravan
Fully articulating reclining executive seats covered in sumptuous leather with coordinating 3-point passenger seat belts
2-place cushioned divan with storage cabinet
3-drawer pyramid refreshment cabinet & storage cabinet with your choice of high-gloss or matte wood veneer, leather-wrapped cabinet with veneer accents, or laminate finishes
New wool carpet with choice of bound or serged edges
New sidewall fabric
8 Passengers | Cessna 208B & 208B-EX Grand Caravan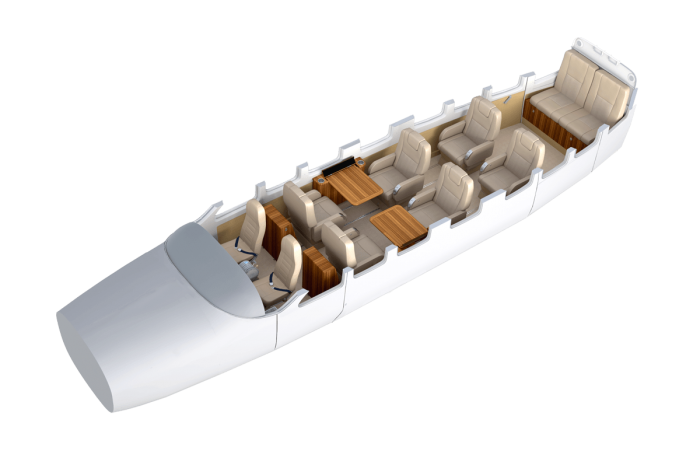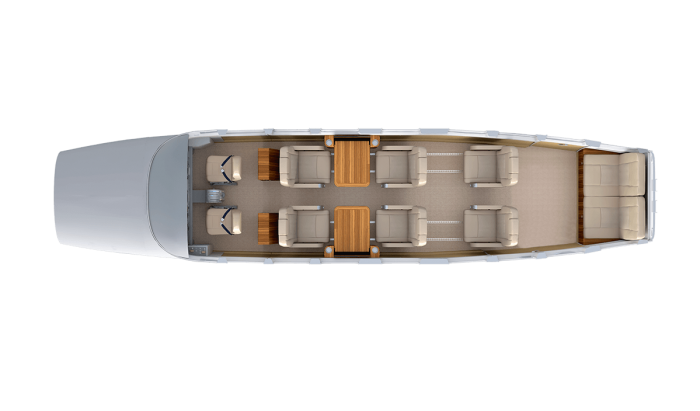 Fully articulating reclining executive seats covered in sumptuous leather with coordinating 3-point passenger seat belts (6)
Folding tables with matching leather writing insert & accents (2)
2-place cushioned divan with storage cabinet
3-drawer pyramid refreshment cabinet & storage cabinet with your choice of high-gloss or matte wood veneer, leather-wrapped cabinet with veneer accents, or laminate finishes
New wool carpet with choice of bound or serged edges
New sidewall fabric
Aft Club with MIdship CAbinets
8 Passengers | Cessna 208B & 208B-EX Grand Caravan
Fully articulating reclining executive seats covered in sumptuous leather with coordinating 3-point passenger seat belts (6)
Folding tables with matching leather writing insert & accents (2)
2-place cushioned divan with storage cabinet
3-drawer pyramid refreshment cabinet & storage cabinet with your choice of high-gloss or matte wood veneer, leather-wrapped cabinet with veneer accents, or laminate finishes
New wool carpet with choice of bound or serged edges
New sidewall fabric
Aft Club with Front Cabinets
8 Passengers | Cessna 208B & 208B-EX Grand Caravan
Fully articulating reclining executive seats covered in sumptuous leather with coordinating 3-point passenger seat belts (6)
Folding tables with matching leather writing insert & accents (2)
2-place cushioned divan with storage cabinet*
3-drawer pyramid refreshment cabinet & storage cabinet with your choice of high-gloss or matte wood veneer, leather-wrapped cabinet with veneer accents, or laminate finishes
New wool carpet with choice of bound or serged edges
New sidewall fabric
8 Passengers | Cessna 208B & 208B-EX Grand Caravan
Fully articulating reclining executive seats covered in sumptuous leather with coordinating 3-point passenger seat belts (6)
2-place cushioned divan with storage cabinet*
3-drawer pyramid refreshment cabinet & storage cabinet with your choice of high-gloss or matte wood veneer, leather-wrapped cabinet with veneer accents, or laminate finishes
New wool carpet with choice of bound or serged edges
New sidewall fabric