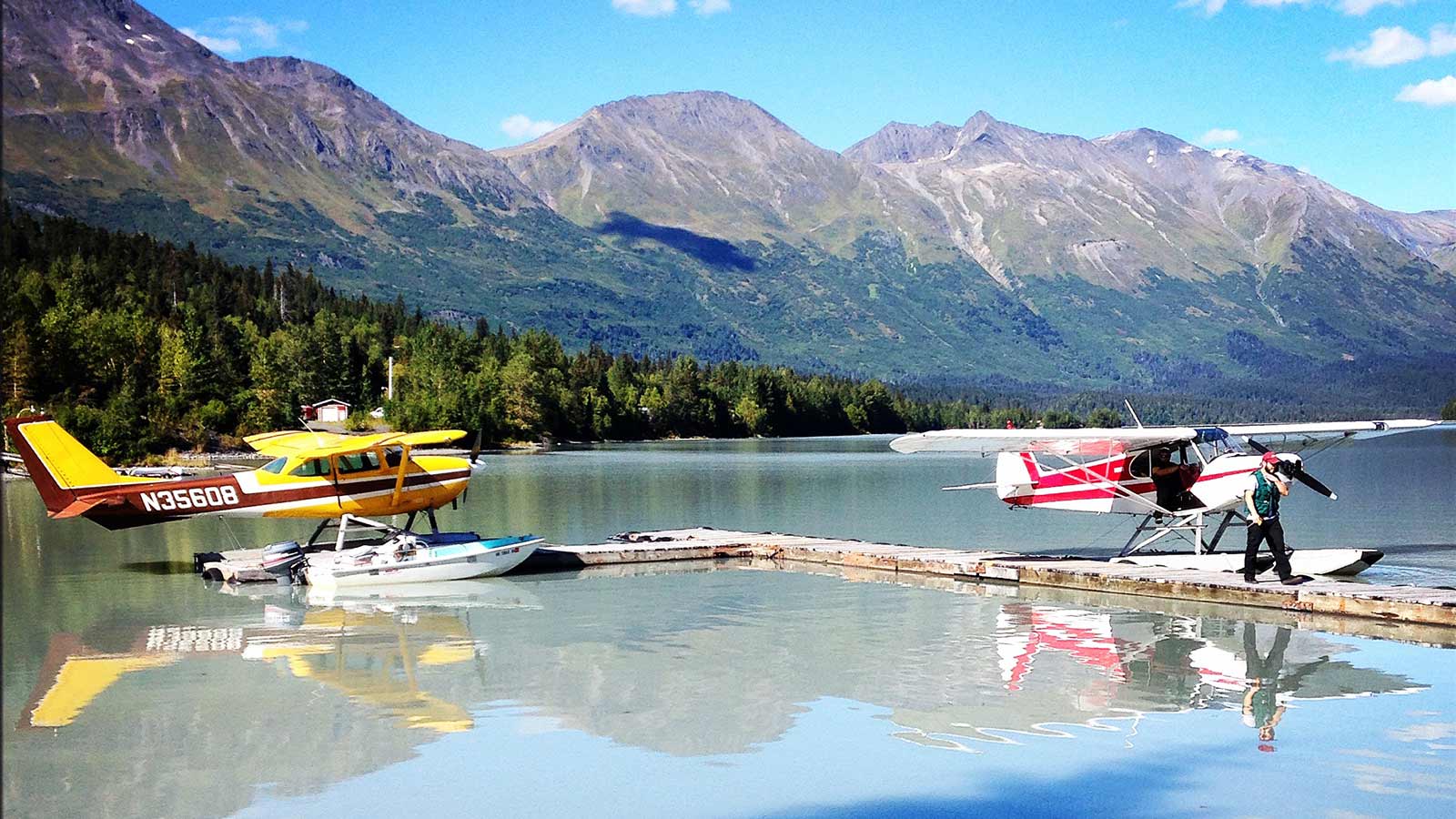 I wanted to learn to fly after learning about a pilot/biologist position for the U.S. Fish and Wildlife Service (Service). When I finished studying biology in college, I decided to finally learn. I received a private pilot rating on November 8, 2012, an instrument rating on May 8, 2014, and a commercial license on May 17, 2015. Alaska-based pilots in the Service are required to be commercially rated seaplane pilots. When I was granted the 2015 Ben Wiplinger Memorial Seaplane Scholarship to obtain a seaplane rating, I was finally able to realize this dream.
Moose Pass is often referred to as "Floatplane Heaven." I can attest to that as my family has called Moose Pass "home" since I was four years old. There was no question that I should get my seaplane rating from Alaska Float Ratings on the shores of Upper Trail Lake. I called Vern Kingsford, owner/operator of Alaska Float Ratings, to schedule my week of training. He congratulated me on the scholarship and promptly donated extra funds to my flight training – I had come to the right place indeed! I've been watching Vern fly above our little town for years and it was finally my turn. From the floatplane dock on Upper Trail Lake there are at least a dozen alpine lakes within a few minutes' flight. Every lake has different winds, shorelines, approaches, and obstacles and each one of these lakes is surrounded by 5,000 foot tall mountains, so with every flight I was also receiving mountain flying instruction and techniques.
There were several other students that started the training on that same Monday morning. Every morning we would meet in the training room, study, fly, watch videos, study, and fly some more. Being able to fly at least two times a day helped me quickly understand any questions that arose while studying. I also wanted to get PA-18 time and the seaplane training hugely improved my stick and rudder skills. On September 5, 2015, I took my check ride with Vern. We went to his favorite lake, Bench Lake, in his favorite airplane, N917VK. After I successfully demonstrated the entire seaplane practical test standards, Vern asked me "do you want to see what this little (Super) Cub can really do?" I promptly responded with an "oh yeah," and Vern took the controls. It's hard to believe that I had any more capacity to learn immediately following a check ride, but I learned even more in that 15 minute flight back to the dock.
Through the seaplane rating process, I've become much more observant of the surrounding environment before and during my flights, and much more aware of my decision-making process—two of the ultimate keys to flying safely. For me, float flying in Alaska is the ultimate flying adventure. I can't wait to fly more seaplanes. I'm excited for what is to come, and patiently waiting for a pilot/biologist position to become available with the Service. There are few jobs that combine raw Alaskan adventure with the challenges of flying and opportunities to study biology and manage wildlife. Thank you to the Ben Wiplinger Scholarship committee for choosing me as a 2015 recipient of the scholarship.