Category | Wipaire Products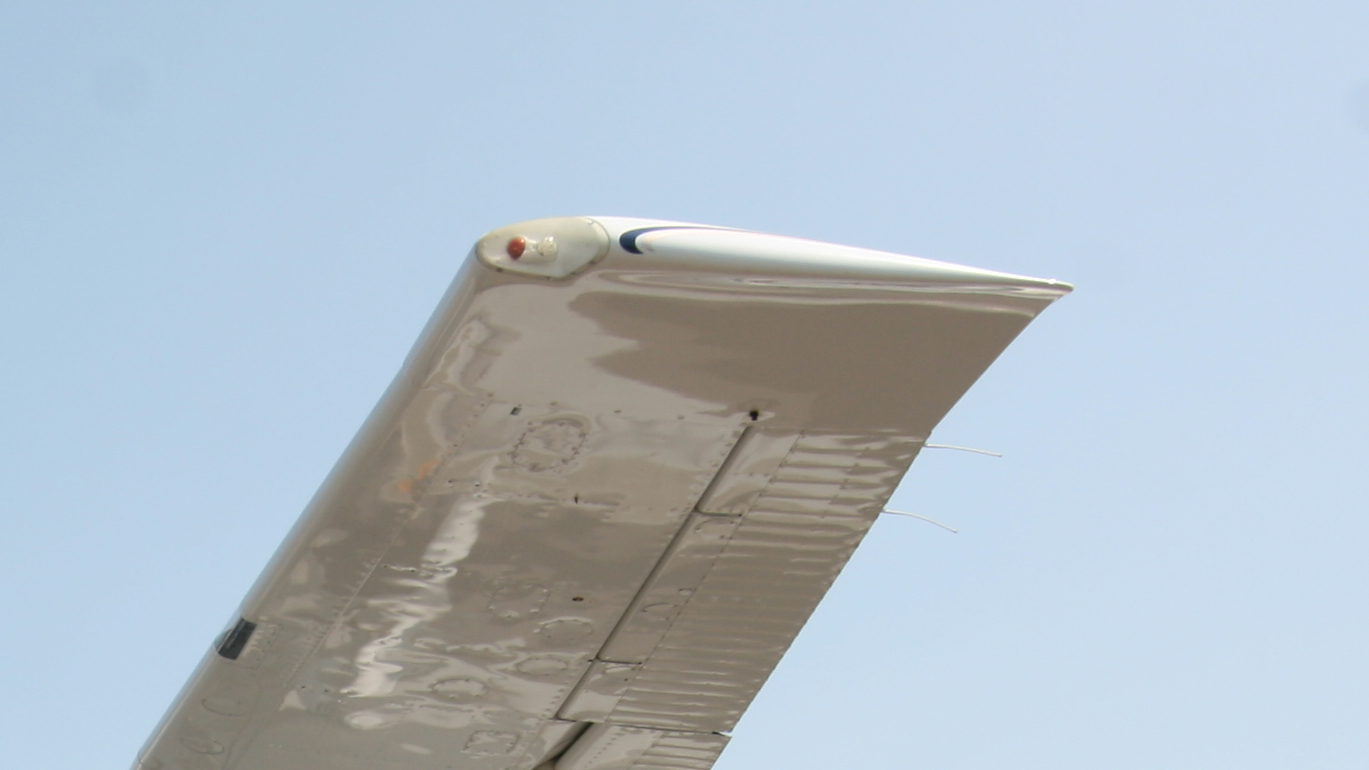 Auxiliary fuel tanks for Cessna aircraft.
Letdown for refueling and climb back up to cruise altitude make up some of the most detrimental engine time and wear. Flint tanks can contribute to significantly longer engine life by extending the range of your aircraft and reducing the need for that "extra stop" for fuel. Flint Aero tanks give you greater flight scheduling flexibility and provide an ever important reserve capacity for an additional margin of safety. And when you find a place where there is a good deal on fuel you can take full advantage of the savings!
Available on all Cessna aircraft.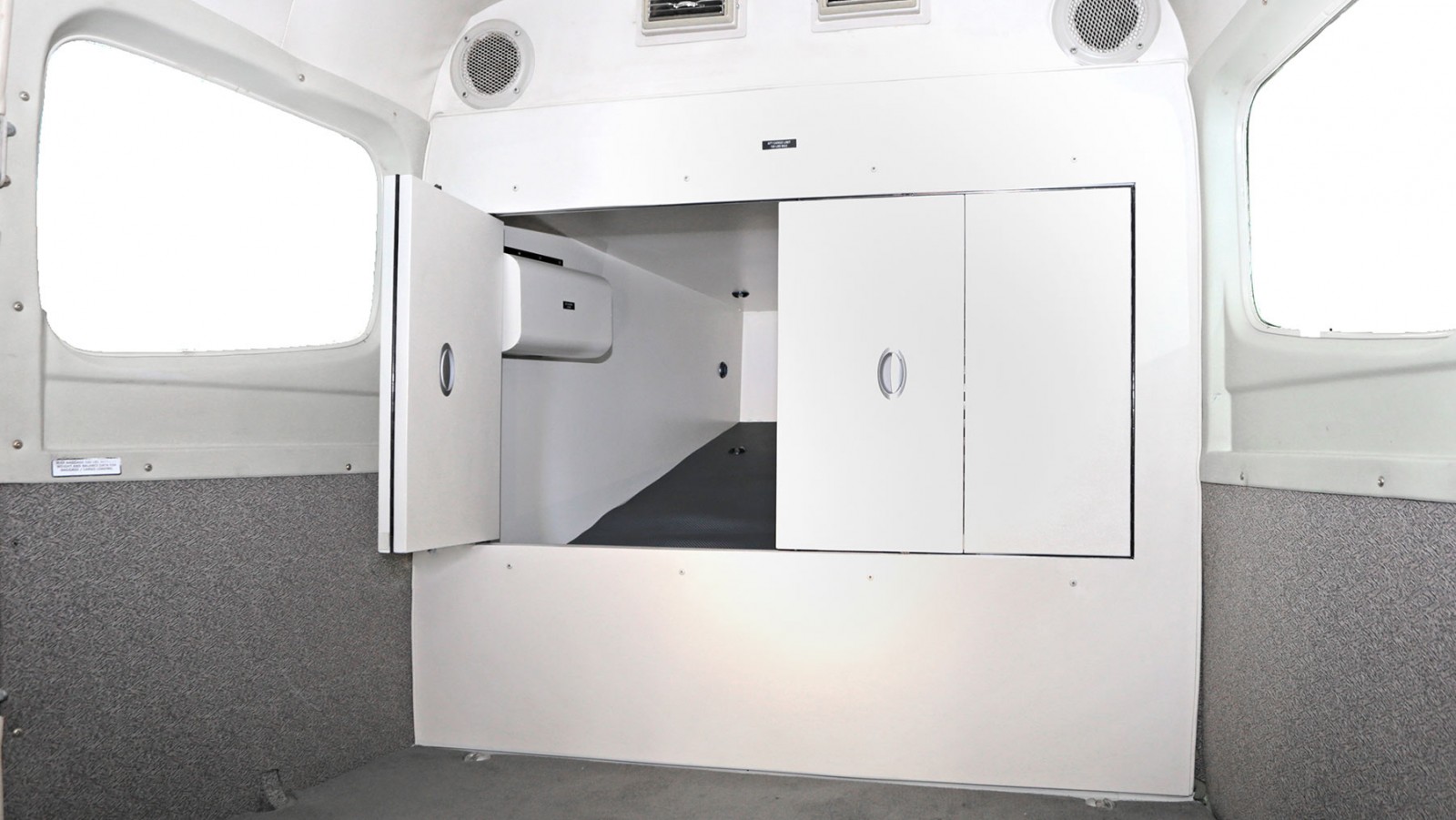 The Wipaire Extended Baggage modification provides additional storage and allows pilots to better manage cargo weight distribution. Our design is available in a variety of configurations to best suit your needs.
Can be installed on any 208 or 208B Caravan with or without floats
Wipaire extended baggage assembly is designed as a single piece assembly to be more easily removable for maintenance access
Doors or cargo net closure available
Can be custom finished to match or compliment aircraft interior for an additional cost
Multiple tie-downs to secure cargo and rubber coin-mat floor to prevent sliding
Expanded access under cargo floor
Compatible configurations for Divan, AC and amphibious  hydraulic pump
Extended avionics shelf kit is available to allow for flexibility in reconfiguration of avionics that may have been retrofitted in this area (i.e. ADS-B) that would interfere with the extended baggage installation
For seaplanes with amphib hydraulic systems, the assembly is equipped with a clear cover making it easy to check fluid levels

Once only known as a rugged, utility aircraft, the Twin Otter can now be known as a first class executive aircraft. With a Wipaire Executive Interior you can have all the comforts of a business jet. From the luxurious feel of top grain leather to spacious seating arrangements, your passengers will feel pampered from the moment they step onto your Twin Otter. Whether conducting a business meeting en route to their destination or getting a head start on their relaxing vacation, your passengers will find the extra amenities to be a necessity.
The Wipaire Executive Interior for the Twin Otter is available in many configurations to fit your needs and desires. We will work with you to arrange the interior to have the most advantages for you. All Wipaire Executive Interiors feature top-grain leather seats, decorative lower sidewall fabric and a transitional sidewall trim with veneer accent. Rich, wood veneer cabinets, with optional high-gloss finish, store beverage centers, pilot gear, carry-on luggage and more.
Custom style and design
Luxurious overstuffed or classic smooth finish seats
Reclining seats for comfort
Full function swivel seats with adjustable arm rests
Supple top grain leather upholstery
Side tables with leather writing inserts
Optional private lavatory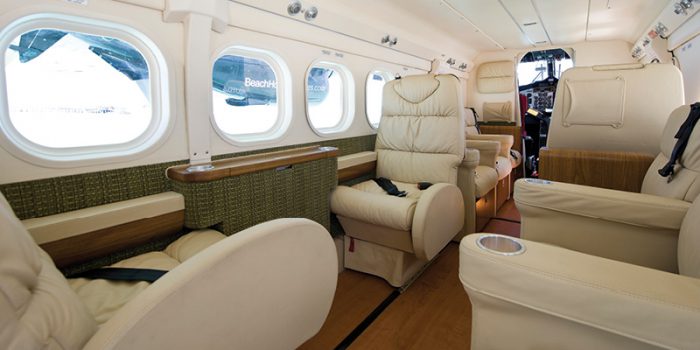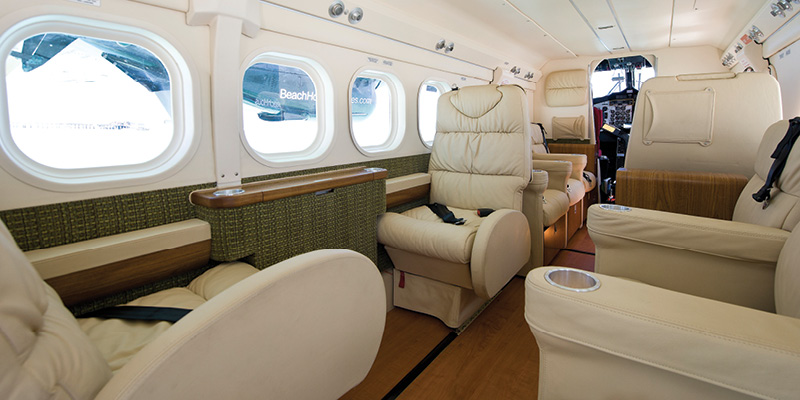 Stowable side tables
Power stations
Three-drawer refreshment cabinet with ice compartment
Built-in cup holders
Concealed carry-on storage
Optional entertainment system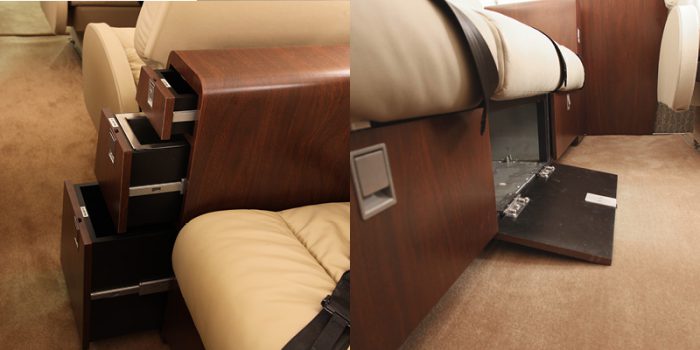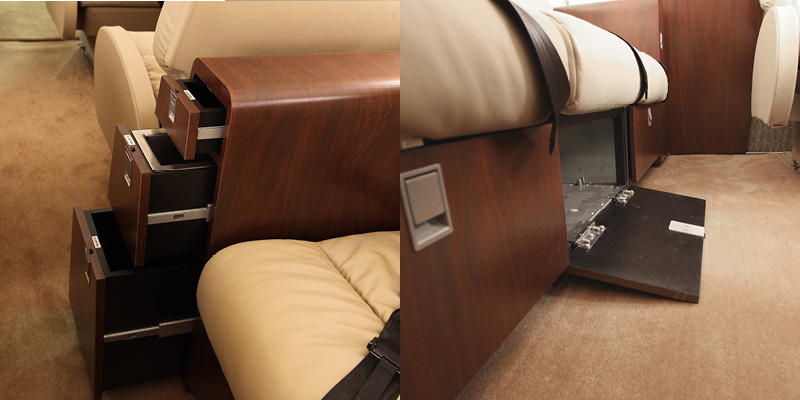 Wood veneer, or laminate cabinetry
Brushed aluminum hardware
Plating options available
Top grain leather
Side tables with leather writing inserts
Sidewall accent trim
Decorative lower sidewall fabric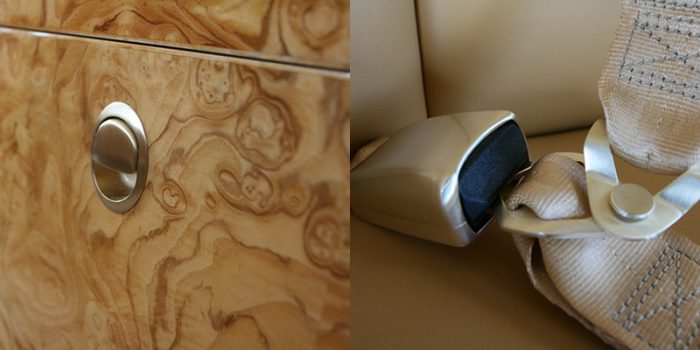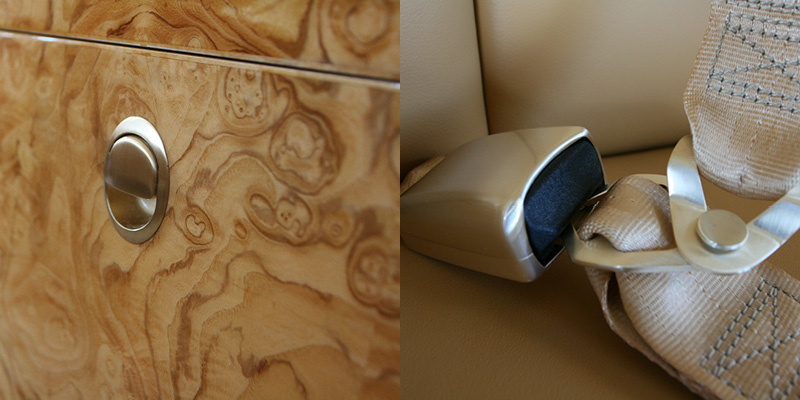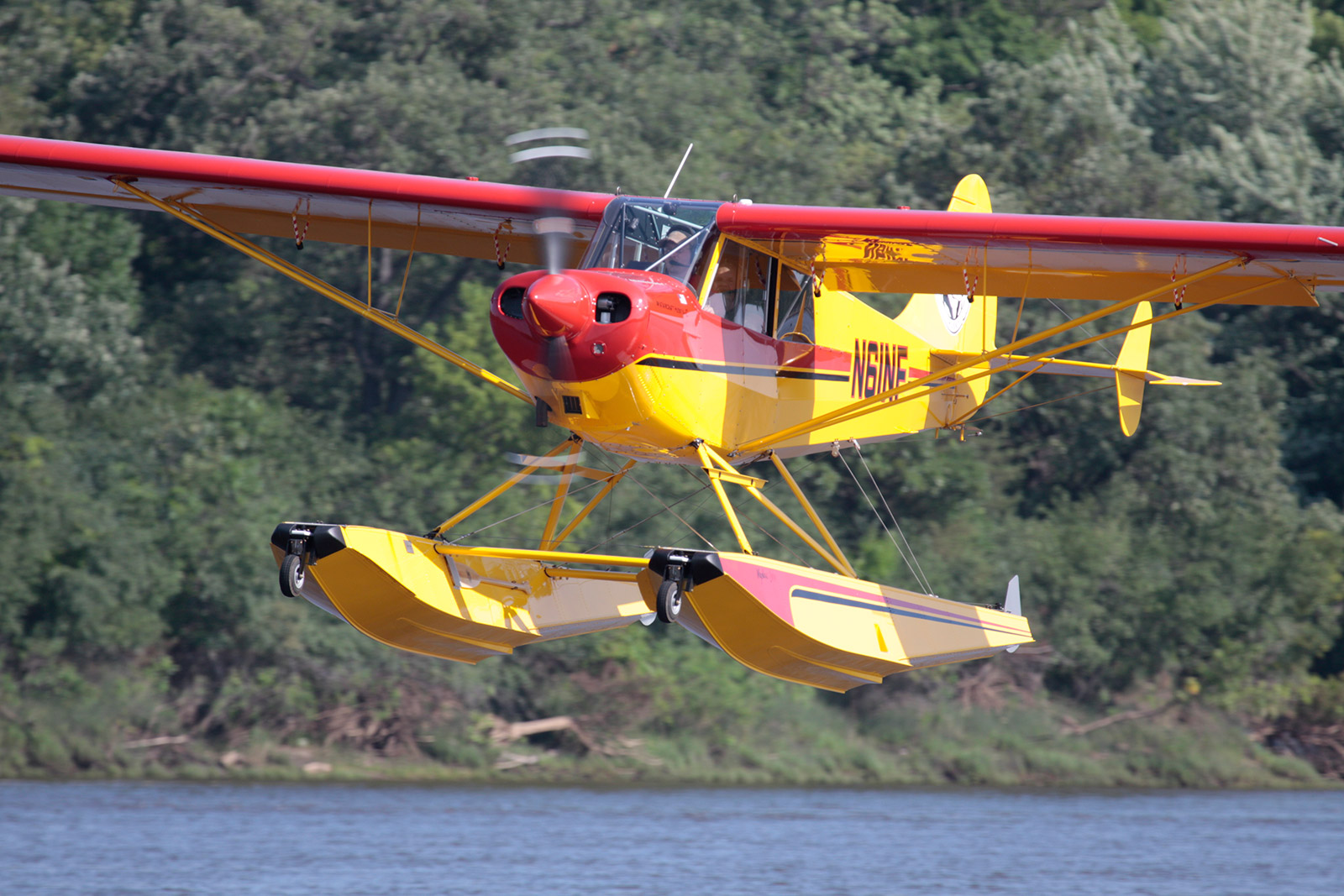 Wipaire's Supplemental Type Certificate increases the Husky's gross weight on Wipline 2100 floats to 2,250 pounds from 2,200 pounds. This adds 50 pounds to the aircraft's useful load, further increasing the Husky's utility. Wipaire's STC is available as a takeoff-only gross weight increase or a takeoff and landing increase which allows the aircraft to be landed at the 2,250-pound gross weight. This modification is available on the A-1B, A-1C-180, and A-1C-200.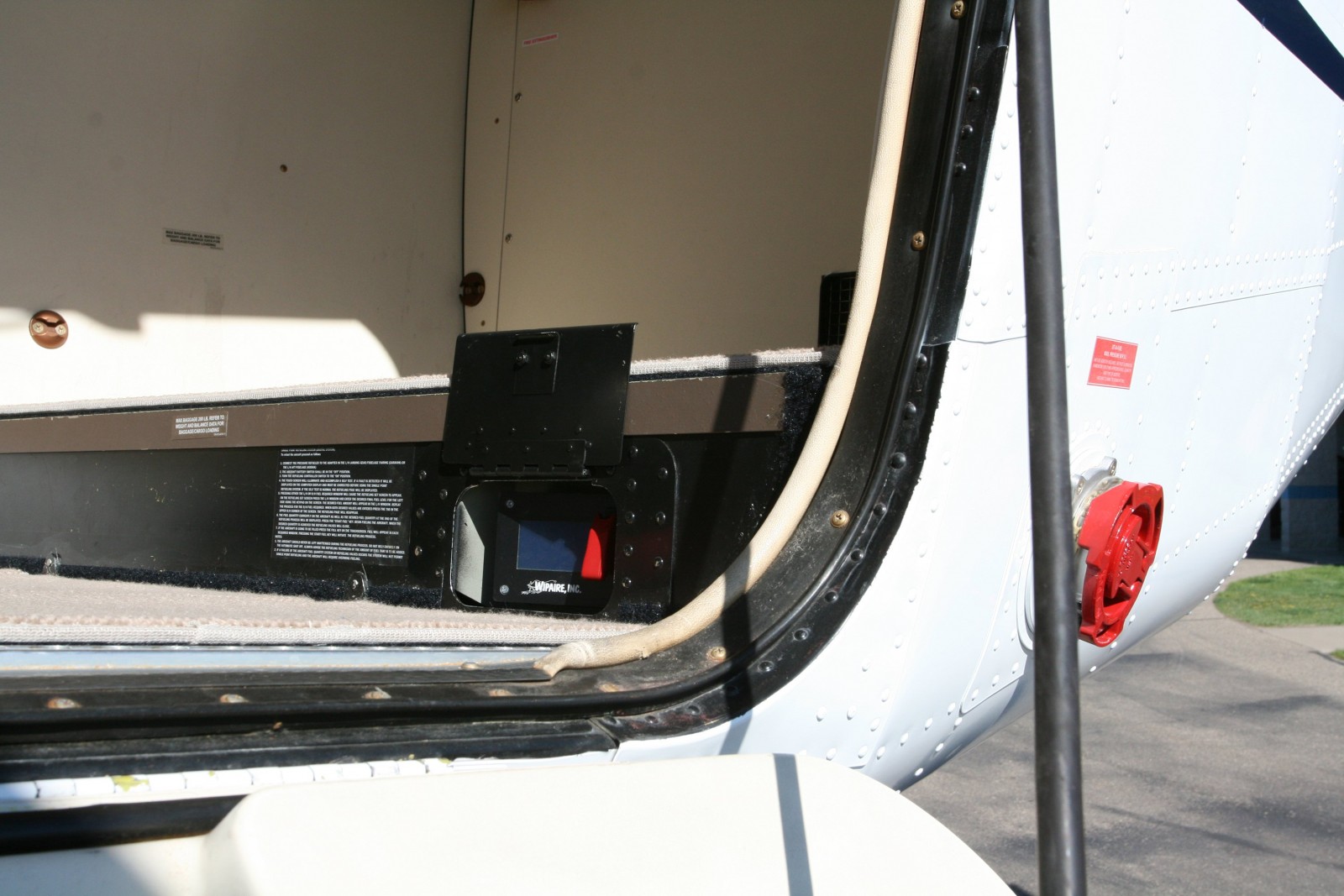 Outfit your Kodiak with Wipaire's single point fueling system and save time. Adding single point fueling capability makes your fuel stops at airports simpler, safer and faster. This modification enables your Kodiak to be fueled by standard fueling trucks at ground level removing the requirement for tall ladders and filling tanks individually. Reduce your fueling time so you can get on to your destination faster!
Available on floats or wheels
Compatible with G1000 or resistive fuel systems
Easy to use digital touch screen control panel
High precision fuel measurement controls
Electronic fuel level monitoring for reliable fuel top off
Measure fuel in gallons, liters, kilograms or pounds
Master power not required to fuel
Pilot does not need to be present during refueling
Eliminate the risk of TKS anti-ice system or wing damage from over-the-wing fueling
Single Point Fueling Specifications
Installation Weight
36 lbs (16 kg)
Refueling Rate
45 gal/min at 40 psi
Power Requirement
5 amps DC
Install Location
– Control in the step area of the baggage compartment near the aft left hand door.
– Nozzle is just aft of the left hand aft door.