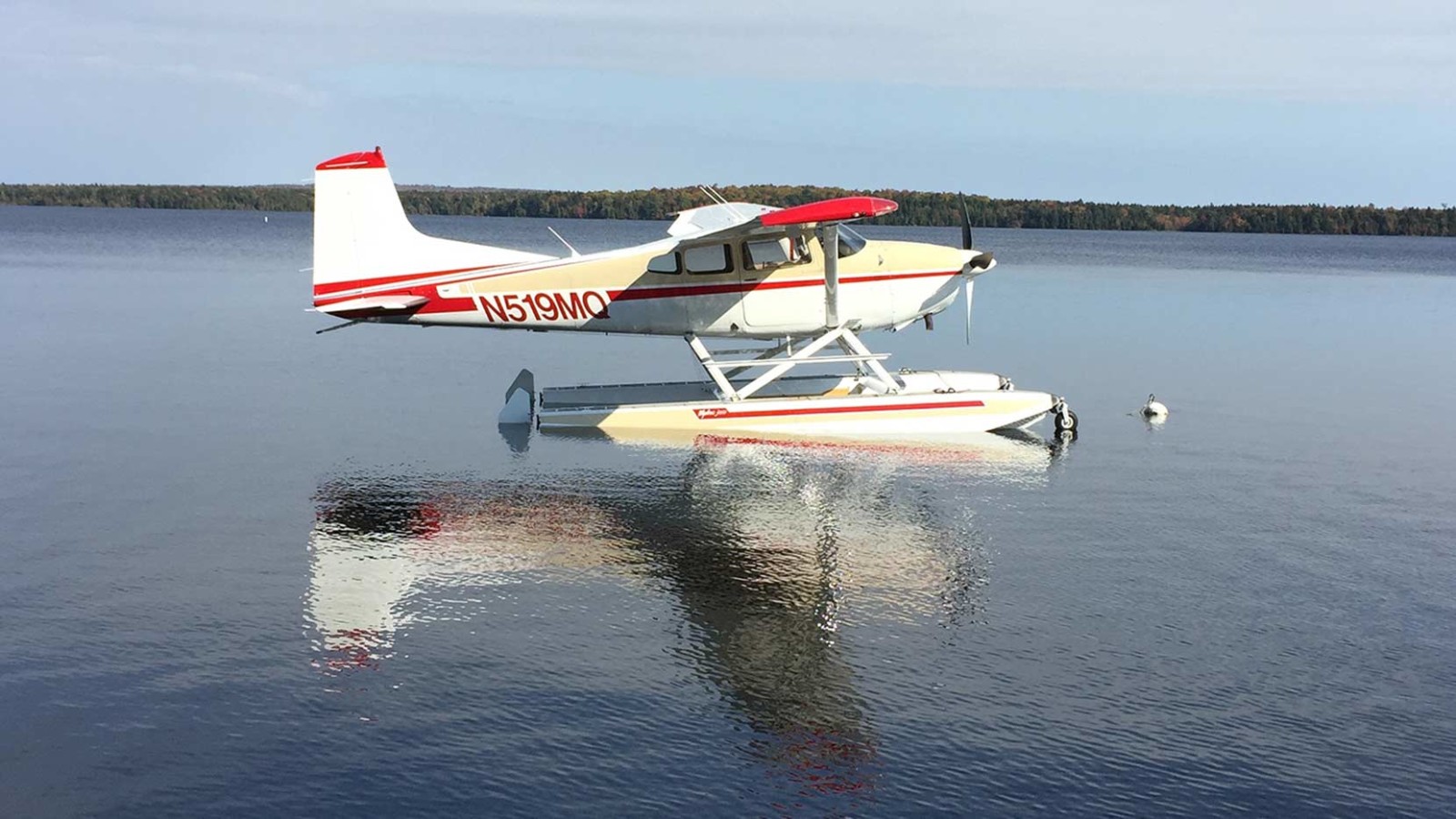 Many of Wipaire's customers take advantage of additional services while new Wipline floats are being installed on their airplane. However, Wipaire also has an experienced aircraft sales department that can find your dream airplane, or find one that's not quite perfect and transform it into your ideal aircraft by taking advantage of our in-house services. While many of our features focus on customers who purchased new floats, Barnaby worked with our aircraft sales team to select the right floatplane for his mission and is now a proud partner in a Cessna 185 on Wipline 3000 floats.
"This was an adventure," Barnaby commented when describing how his aircraft search brought him to Wipaire. "I've been flying since I was a teenager and I always thought it would be great to fly an amphib. I watched Tales of the Golden Monkey as a kid, which featured a Grumman Goose, and I remember thinking how cool it was that you could go places that no one else could get into."
Barnaby lives in upstate New York, and is near the heart of the spectacular Adirondack State Park. With a wealth of lakes, mountains, waterway access points, and remote places to unwind, he was looking for a floatplane to take on fishing and hunting trips. He wasn't sure precisely what he wanted but found Wipaire's knowledgeable staff to be key in his search.
"About a year ago, I started talking to some friends at a birthday party who had gotten into a partnership on a Cardinal. One of them knew of someone looking for a partner on an amphib, so I met Barry. We hit it off and we started looking at airplanes," Barnaby recalled. "I knew very little about floatplanes to begin with. I started in on the Cessna 206 because of the useful load."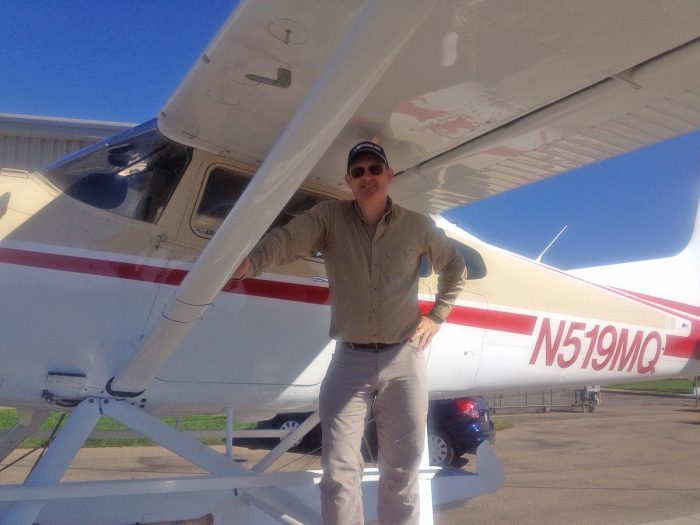 Barnaby continued, "I first got acquainted with Wipaire when I called about a 206 Brittnie Brink (Cessna 206 and 182 sales) was representing. The thing that struck me right off the bat was that Brittnie is a walking encyclopedia of knowledge on the 206—what will work, what won't work, capacities and so on. I learned a lot about floatplanes from her. For me as a novice, that was of tremendous value."
Barnaby and his partner's goals in an aircraft were to find an amphibious airplane with a useful load close to 1,000 pounds, IFR certified, with minimal modifications or upgrades required. "In our experience, 206s that met our criteria were hard to find," Barnaby noted. "Brittnie explained the dynamics of that particular marketplace, like strong demand in South America, the necessary combination of float design and power plant to meet our needs, and so on. We even looked at importing a Canadian aircraft but the process was intimidating and possibly expensive."
Many airplanes didn't offer everything Barnaby and Barry wanted, so they kept looking. "One of the key things I really appreciate is when an airplane you look at is well-represented. I doubt many buyers have the time to go through everything thoroughly to know what the airplane is really like. Having someone experienced like Brittnie review the aircraft beforehand brought value. My experience with Wipaire is that you're very meticulous in deciding what airplanes to take on and represent; not every aircraft will make the cut." As for working with Wipaire's sales department, Barnaby commented "It was nice to know that I was working with a division of a company that is the largest amphibious float manufacturer in the world. All of that bodes well for the buyer. It was especially valuable for me as a first-time buyer—I didn't want to have a bad experience with an airplane, especially after I purchased it."
As Barnaby and Barry's floatplane search continued, Barnaby earned his seaplane rating at Jack Brown's in Winter Haven, Florida in April of 2015. Along the way, the two expanded their considerations to a Cessna 185. Barry had significant experience in 185s on floats as he had previously owned one. As Wipaire frequently has 185s for sale, Barnaby and Barry began communicating with Bruce Thoele, Wipaire's sales representative that handles aircraft such as the de Havilland Beaver, Cessna 180/185s, and Aviat Huskies.
"My experience with Bruce, Brittnie, and the whole Wipaire team was that they were trying to provide solutions that were going to work for me and my partner Barry," Barnaby stated. "We were presented options within our budget, sometimes including modifications and upgrades. That's something too—Wipaire has the ability to do a lot of modifications on an aircraft so if we found a plane that needed modifications, we could have that taken care of at one location. It turned out we had GAMI injectors installed on our aircraft after we closed on the purchase. Bruce Thoele coordinated all the work for us."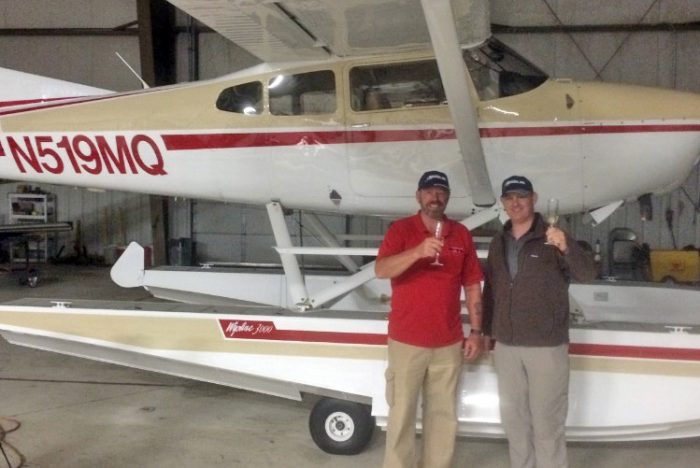 When a 1983 Cessna 185 on Wipline 3000 amphibious floats became available, Barnaby and Barry paid attention. "It really looked turnkey—the paint was in really good condition, and the airplane had a number of desirable modifications as well. The panel was one of the best I've ever seen, plus the pairing of the Wipline 3000 float on the 185 is a really great match. It was an airplane we could just go fly instead of spending money on it."
"We closed on the airplane in September. Getting through the purchasing process—title search, escrow, and so on—we didn't even worry about that. Working through a broker provides a tremendous sense of comfort. You guys have done this so many times," added Barnaby.
"Obviously, I didn't have much floatplane experience since I had just gotten my rating in April," Barnaby said. "For insurance purposes, I needed to get 10 hours of dual instruction in a 185. I worked with Brian Addis (Lake & Air Flight Instructor/Designated Pilot Examiner) for a few days and flew off the time. We went through all of the airplane's paperwork and I was able to learn a lot about this new-to-me airplane. It was really great to have a chance to fly with Brian. Wipaire has the facilities to do modifications and training, and it makes it possible to really have a coordinated experience for the buyer. I didn't have to spend a lot of time thinking about how to get the insurance requirements met."
Soon, Barnaby was on his way home. "I was able to call Brian on the way back to New York with questions about the aircraft performance on the cross country and Brian always made himself available. It is great to know I have a partner with Wipaire in terms of supporting me after the sales transaction. It's been a really fun experience."
Now that the airplane is home in New York, Barnaby reports that he is very much looking forward to bringing friends to go fishing, hunting, and camping. Since fall has arrived in the region, it sounds like Barnaby has a lot of planning and daydreaming to do over the winter!